Here at the Sow's Ear we have been extraordinarily blessed over the past three years with the presence of our dear friend and coworker Sara.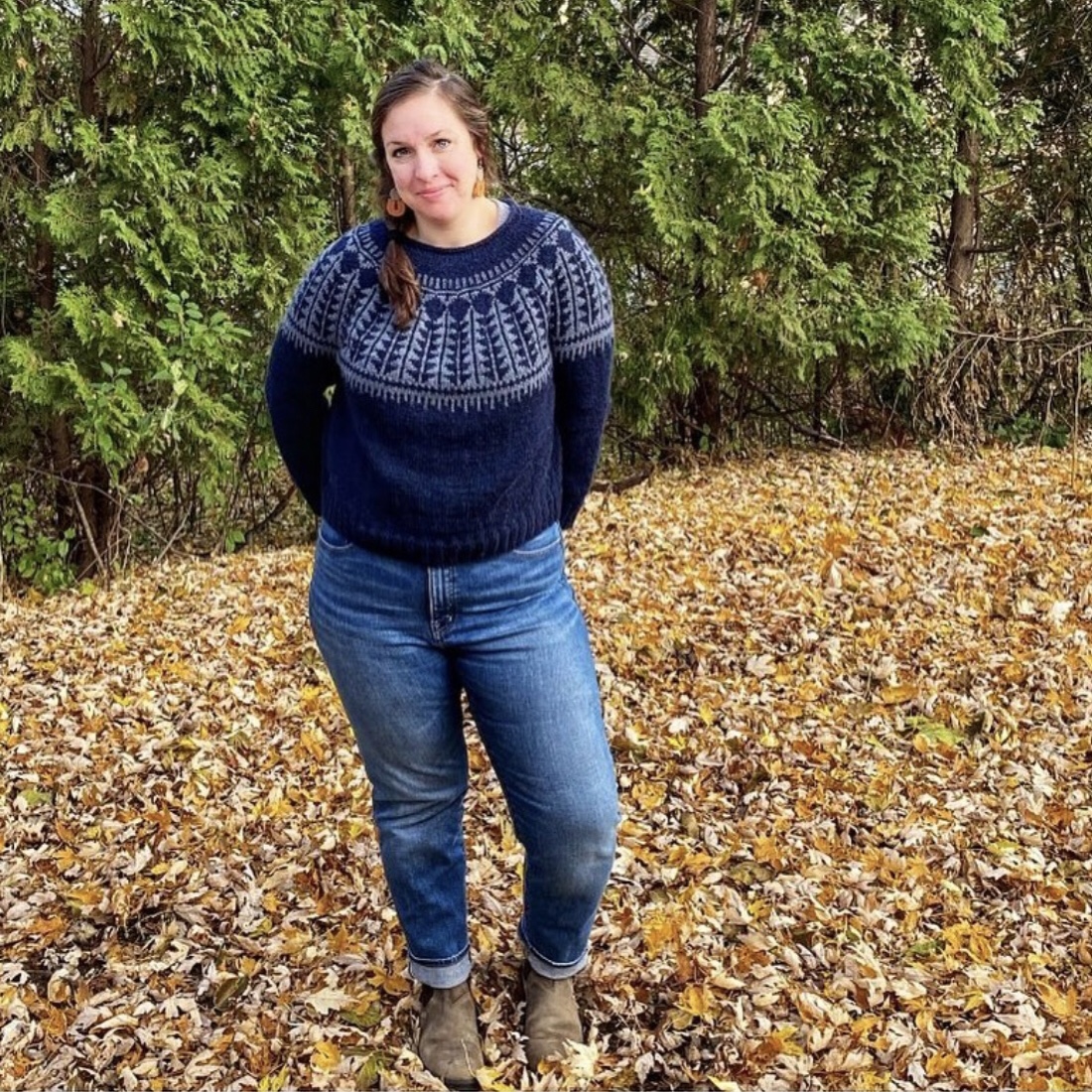 If you've had the good fortune to meet Sara, you were probably equally struck by her extraordinary kindness, patience, and positive approach to life as by her skills as a knitter. Sara brings open-mindedness as well as mindfulness to every situation she finds herself in, and from the depth and breadth of her own life experiences she is able to meet everyone where they're at whether that's in picking out yarn for their first colorwork project or helping a friend with something they're going through. Her presence at the Sow's Ear has elevated all of us as she provides world-class customer service while bringing so much enthusiasm and encouragement into the everyday vibe of the store.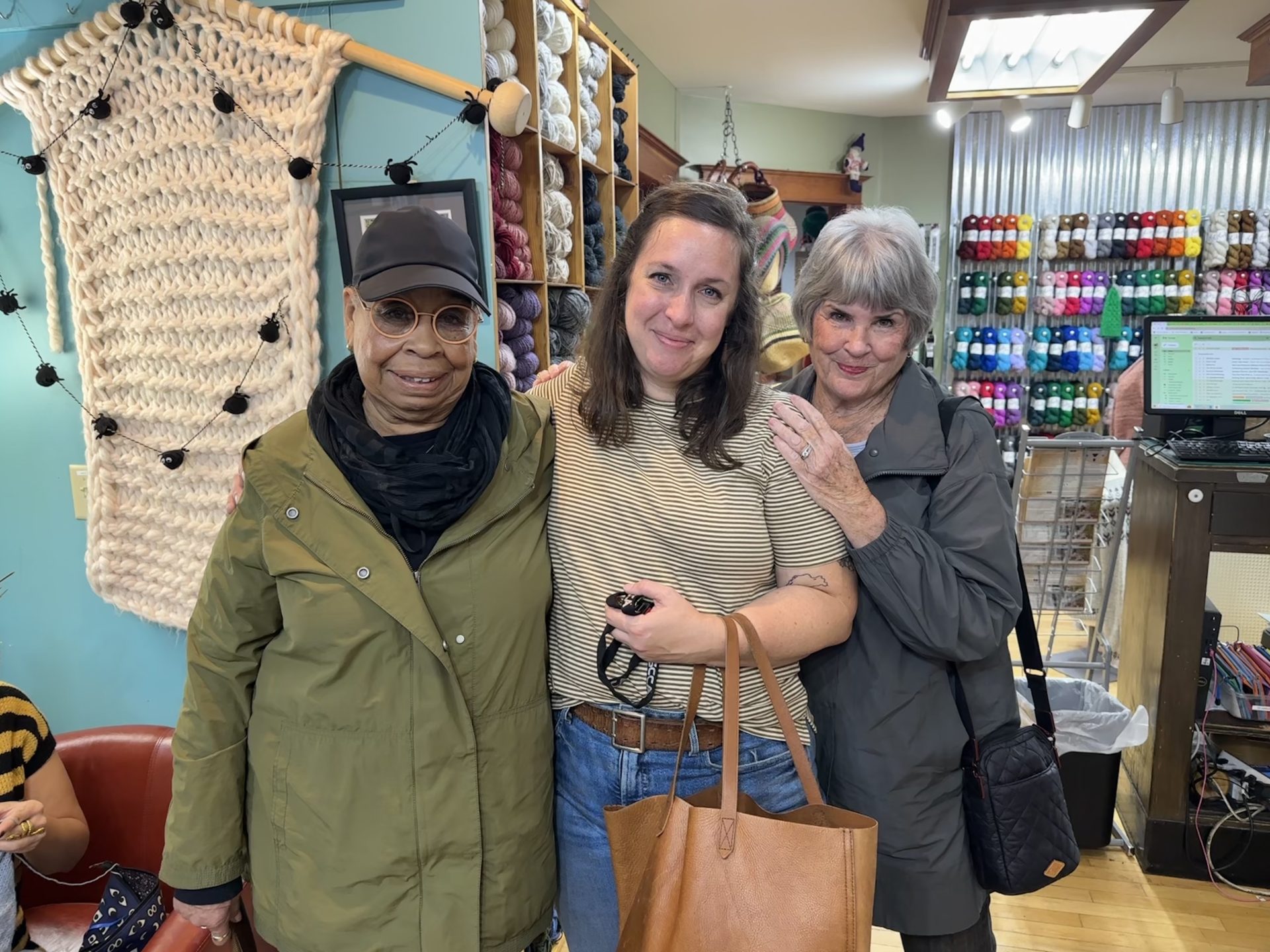 So why this love letter to Sara now, besides the fact that it's never the wrong time to express appreciation for the good people in our lives? Some of you have probably guessed it already — Sara recently began a new chapter in her life, which we were lucky enough to help her celebrate!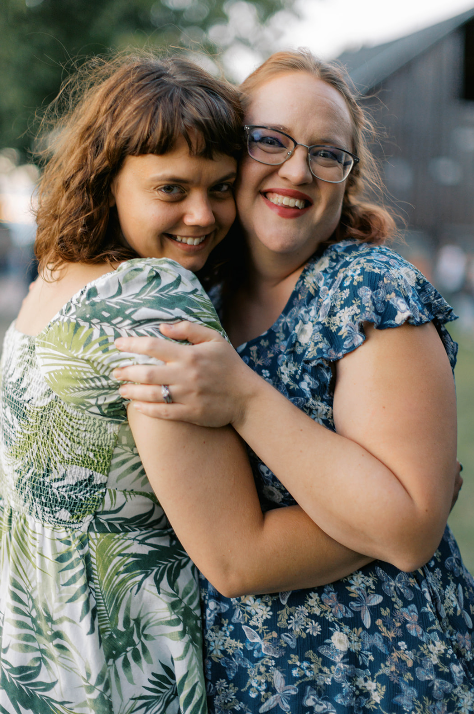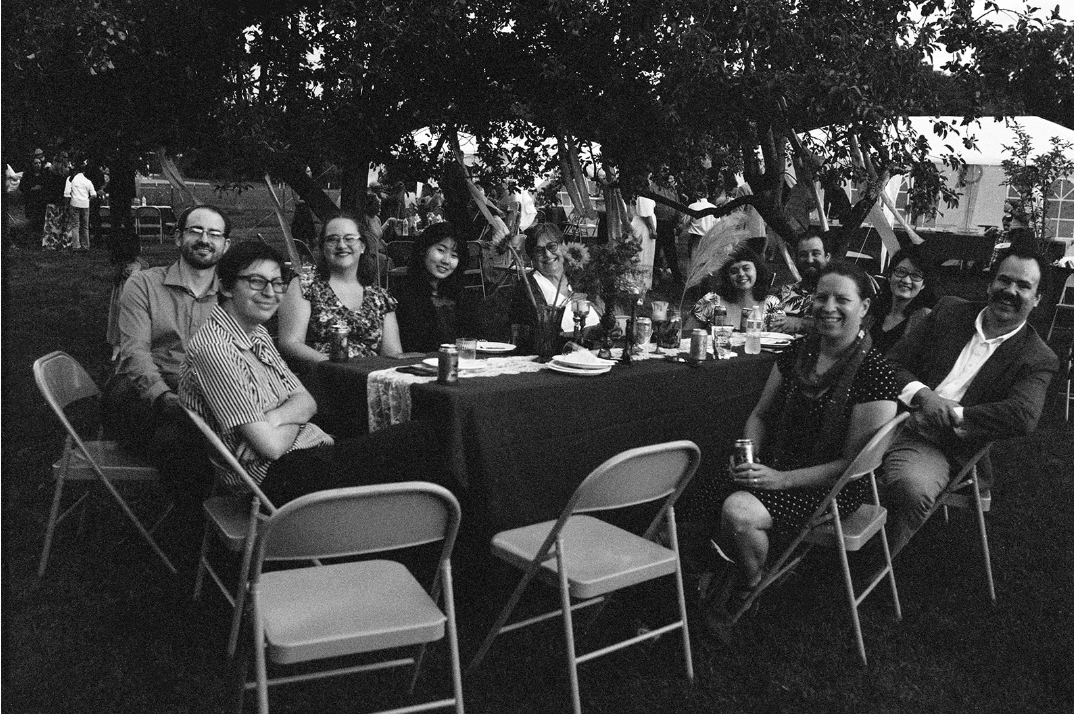 It was a beautiful day, a beautiful ceremony, and we couldn't be happier for the beautiful new couple, Sara and Tim! We hope that you will all join us in sending them into their life together with your best wishes for health, happiness, and a healthy dose of adventure.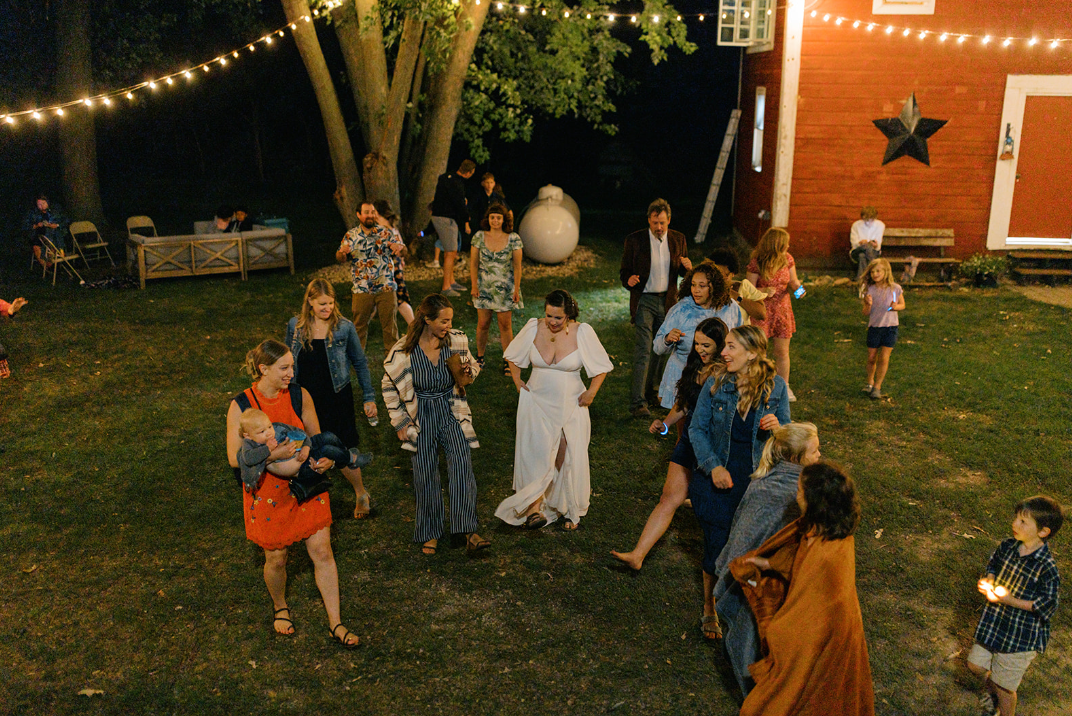 With her marriage and move away from Verona, Sara will be spending less time in person at the Sow's Ear, but she will remain a vital presence within our community.
Community: it has become such a buzzword that some people will use without thinking, but for Sara that has never been the case. She joined the Sow team in 2020 when worries about how to keep our community strong were at an all-time high, and she has been such an inspirational force for good in the way she cultivates and cares for our crafting community. I vividly remember a conversation with her fairly early on in her Sow tenure where we were talking about the overwhelming response to an event the Sow's Ear was hosting. She said, "I think that people are really hungry for community right now." From the projects she's headed up since then, it's plain to see that feeding that hunger is a passion for her.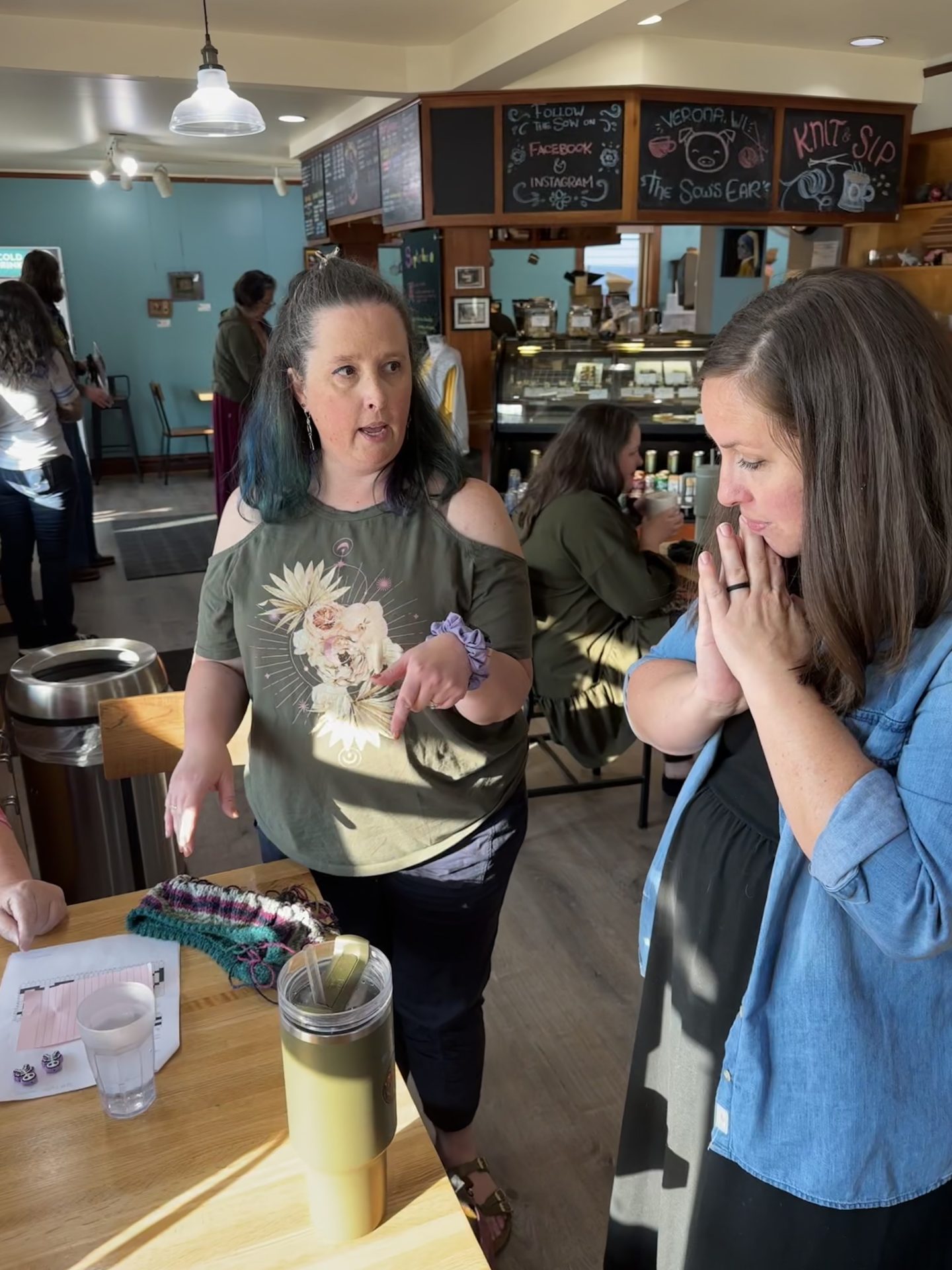 We hope you'll be able to join Sara for the sweater workshops that she leads: all the community joy and laughs of a knit-a-long with bonus handholding and expert instruction every step of the way. Her Matoaka workshop, where you can choose between the aran or bulky-weight version of one of Linka Neumann's newest patterns, starts on Friday November 10th and there are still spots available, register today! Sara is also available for private lessons on Fridays.
---
To end on a personal note….
Dear Sara,
You have been and continue to be an invaluable and beloved member of our Sow's Ear family. Thank you for everything you've brought to our community, and we all are wishing you all the best now and in the future.
If you'll bear with me I've just got two more photos to share. One of you and Crystal for obvious reasons: I love your friendship and I agree with what she said when she sent it to me, that as goofy and blurry as the pic is, it's just the two of you just as you are 😂 The second is of the two of us the day we did our all-staff Felix photoshoot, I don't even remember posing for it but I'm really glad to have it. I've learned so much from you and I feel so fortunate to know you. Your generosity of spirit is infectious, your kindness and empathy is inspirational. Thank you for everything that you do, be very well 💕
– Rose