It's a lovely feeling, to attend an event that's so engaging you never once think to pick up your phone and take a picture.
Of course, when you're leading the event and intending to write about it afterwards, you feel a little silly when you have to ask your readers to take your word for how happy everyone in that room looked.
But, Dear Readers, please take my word for it! Last Friday's 'yarn tasting' event was so much fun, we didn't stop smiling for two hours.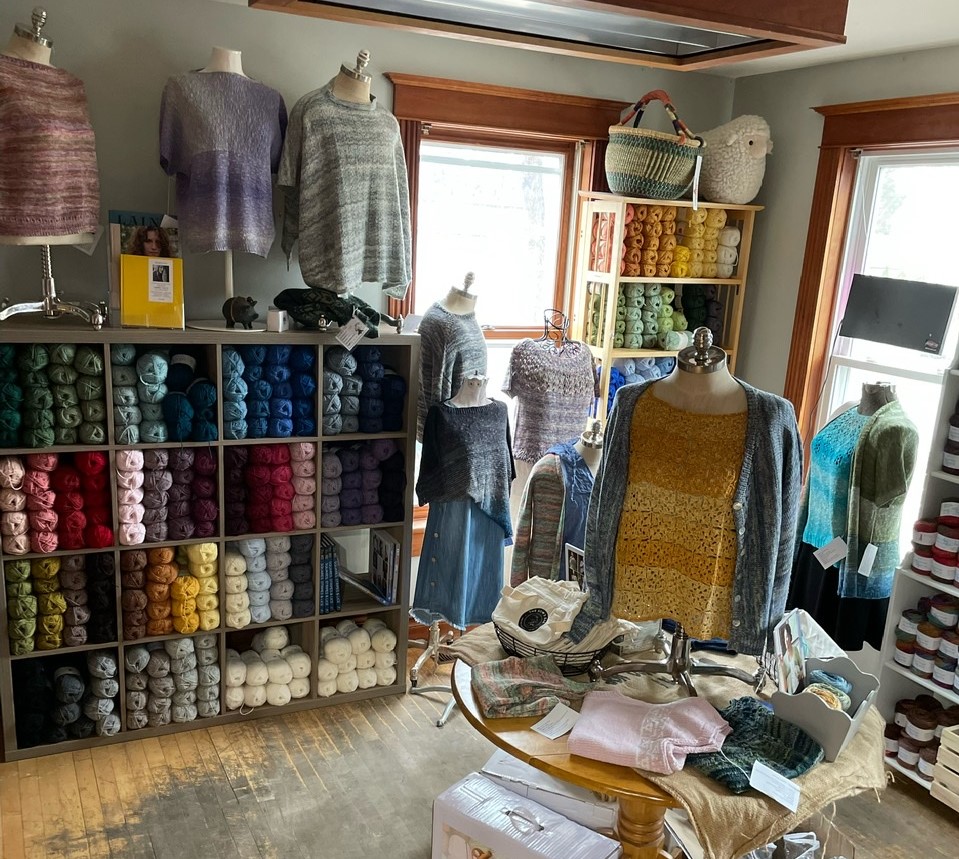 We had the great joy of hosting the Berroco Spring 2022 Trunk Show at the Sow's Ear last weekend, and to go along with it about fifteen of us got to hang out in the back room, test-knit all the brand-news yarns, and squish and coo over the beautiful trunk show garments. It was a beautiful evening.
To everyone who attended, thank you! We met as strangers and departed as friends. If you couldn't make it, never fear! It won't be the last such event we host: check out our events page and subscribe to our newsletter to stay in the loop, and in the meantime read on to meet the new beauties gracing our shelves.
All quotes and photos below (with the exception of the photos taken at the Sow's Ear) are property of Berroco and the designers and can be found on their respective Ravelry pages.
Isola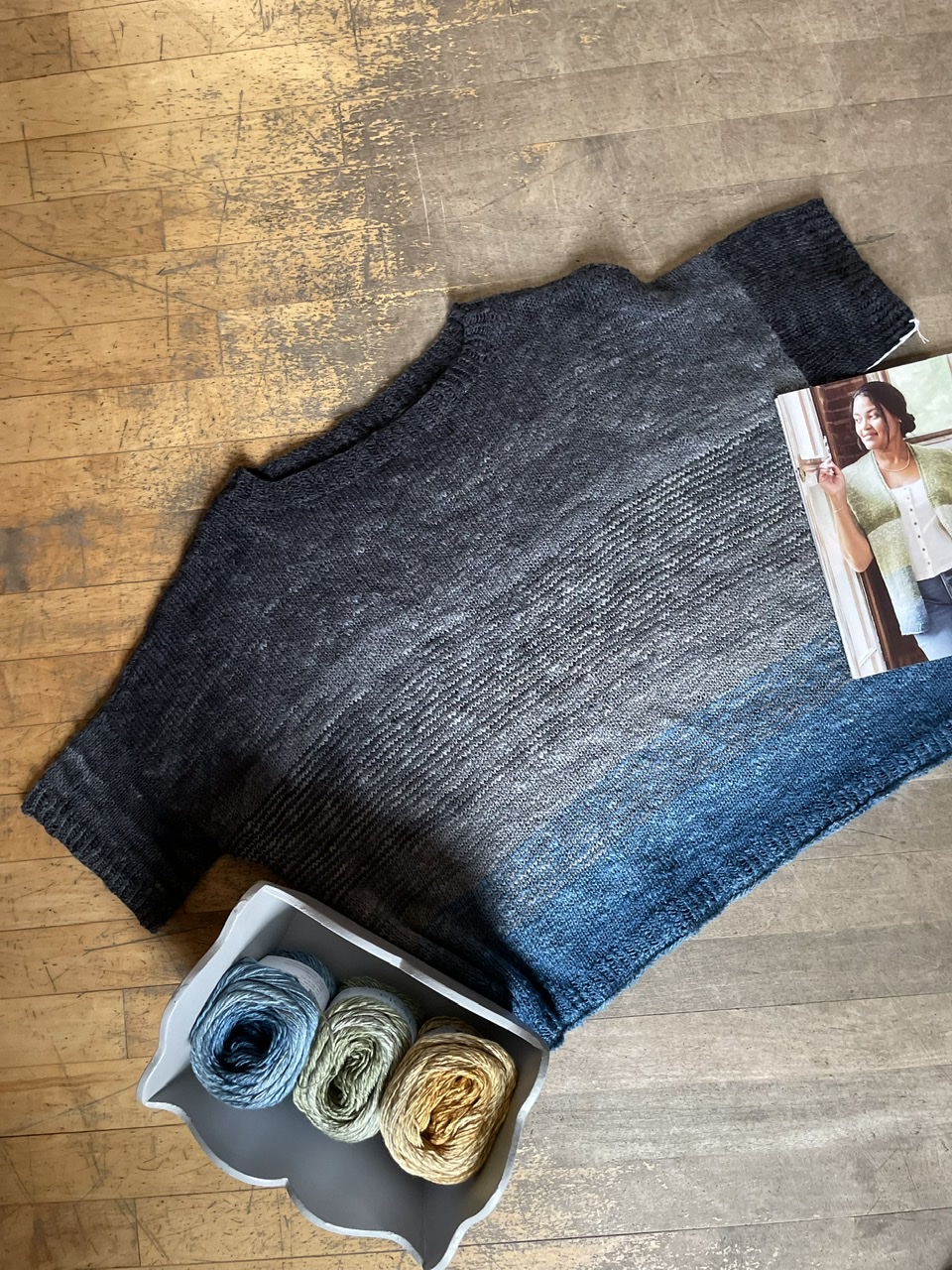 Isola was the belle of the ball! Almost half of what we had in stock went home that night.
A blend of cotton, linen and viscose, a long ombré gradient gives this yarn a unique color effect. It picks up the best textural attributes from each fiber, and finished garments have a subtle sheen and spectacular drape. It's soft and sleek to the touch, perfect for an airy summer shirt or wrap. Pictured above is the Abalone, a classic boxy tee worked up here in a classy fade-and-stripe sequence.
We also love the Nacre for all the crocheters in the house. "Nacre is a join-as-you-go crochet square tee! We love the way Isola's color flows through this tee."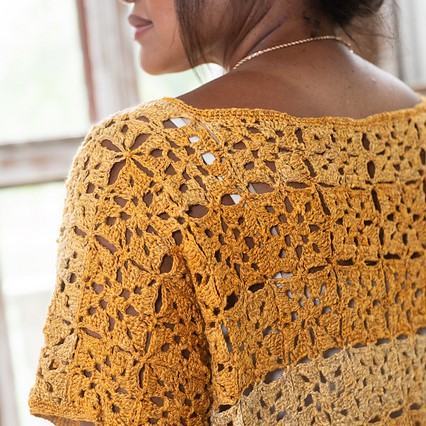 For those who love a classic lace shawl to pair with summer evening wear (or, you know, wear on a hike through the woods! We love a yarn that pairs luxury with function), check out this beauty, the Keshi!
"Keshi is a luxurious lace shawl that's – surprise! – worked in the round and cut open at the end! The cut stitches are then dropped and knotted to form fringe."
Worked in the round…does that mean no purling the WS?? Color us intrigued.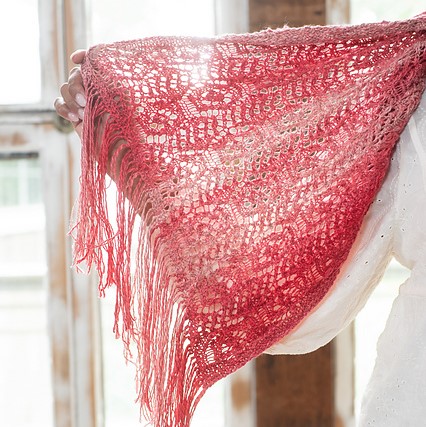 ---
Pima Soft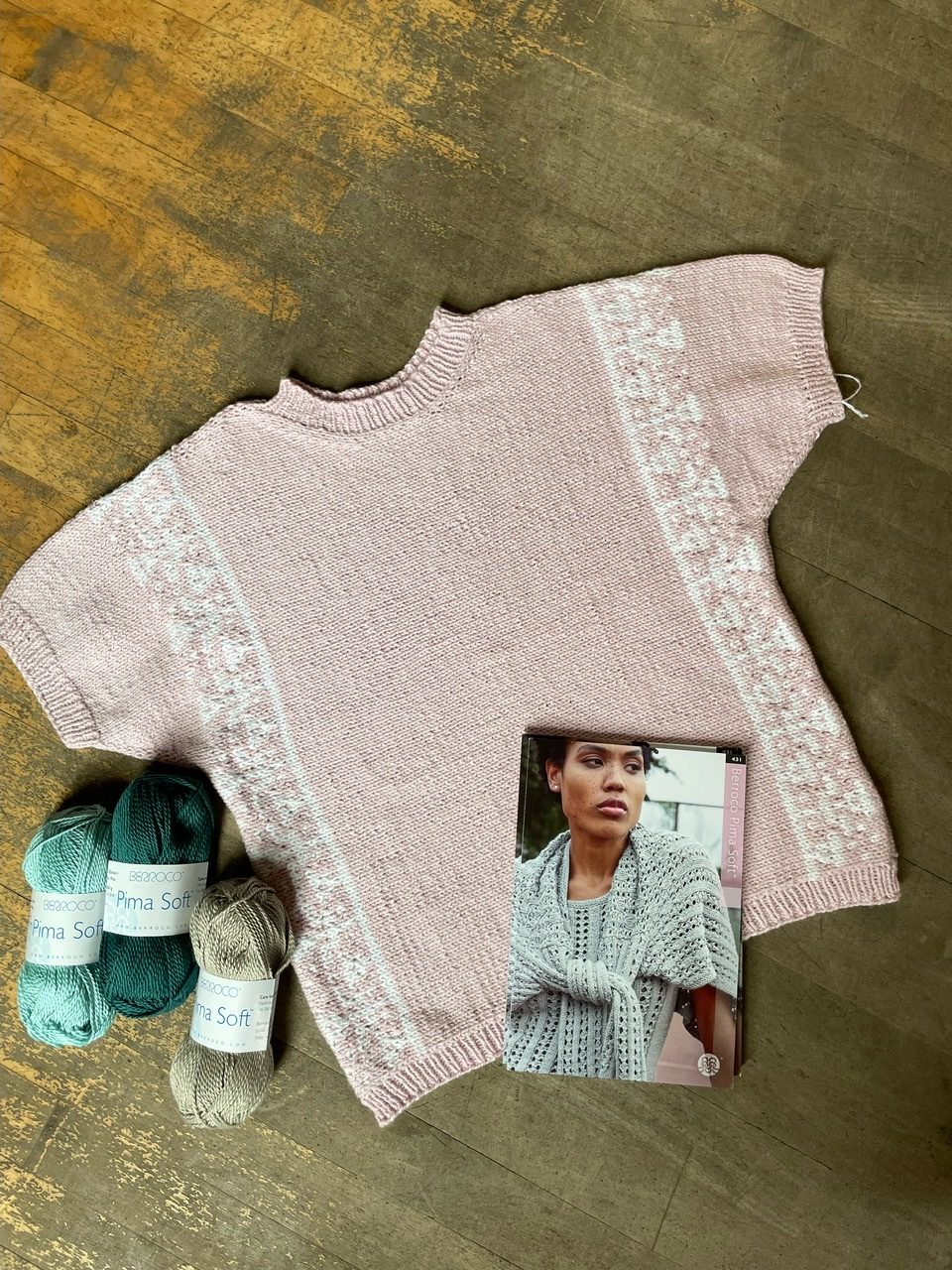 The Pima Soft was the underdog champ of the group.
It's a 100% cotton, 2-ply yarn that is – like it says on the tin – exceptionally soft. The thing is, no matter how pleasing it looks and feels in the skein, 100% cotton can be a tough sell; our minds are conditioned to go to baby clothes and dish cloths.
That's why it was so gratifying to have the trunk show FO's on hand: after we looked at all the yarns in their skeins and talked a little about them we went out on a little field trip around the store and every time we got to one of the Pima garments or shawls there were exclamations of surprise and delight – often along the lines of, "Wow! I would actually wear this!"
---
Spree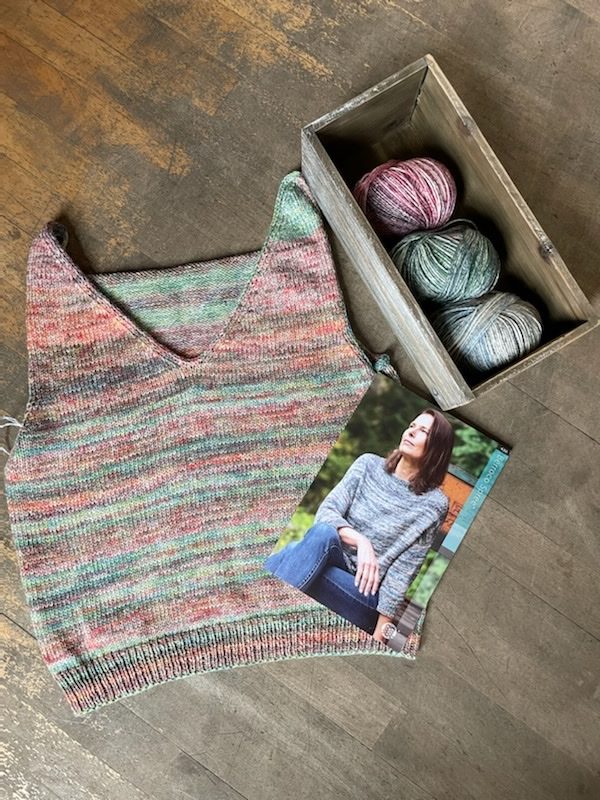 We love a good cotton-wool blend here at the Sow's Ear. Add to that a wholly unique color palette and the verdict is in: Spree is a masterpiece. "Using an impressionistic spray-effect dye technique, this yarn features a lot of color dappled throughout the ball" – the kind of color that makes you feel like you're strolling through Monet's garden or relaxing in Berthe Morisot's salon.
Above, the Bezel camisole shows how a simple stockinette canvas can display the yarn to great effect.
Other favorites were the Briolette (left), a really interesting lace shawl knit side-to-side with drop-stitch fringe and the Navette (right), a poncho with a subtle all-over texture to show off the depth and nuance of the colors.
And here's a fun side note:
You may be familiar with the Amy Christoffers, who wrote the patterns for the Felix Pullover/Cardigan and the Camp Pullover. Many of the Sow staff have knit these two and we all recommend them highly. As Sara S says, we love Amy's designs for their "fit, ease of process and because they're well-written patterns. While discussing it with a customer today, I made the discovery that Amy Christoffers also wrote the majority of the Berroco Spring patterns that we just hosted at our trunk show!"
An excellent discovery, from our point of view, since the patterns are so new that none of us have had a chance to try them out yet. However, we feel we can recommend them confidently, thanks to our high opinion of the designer.
---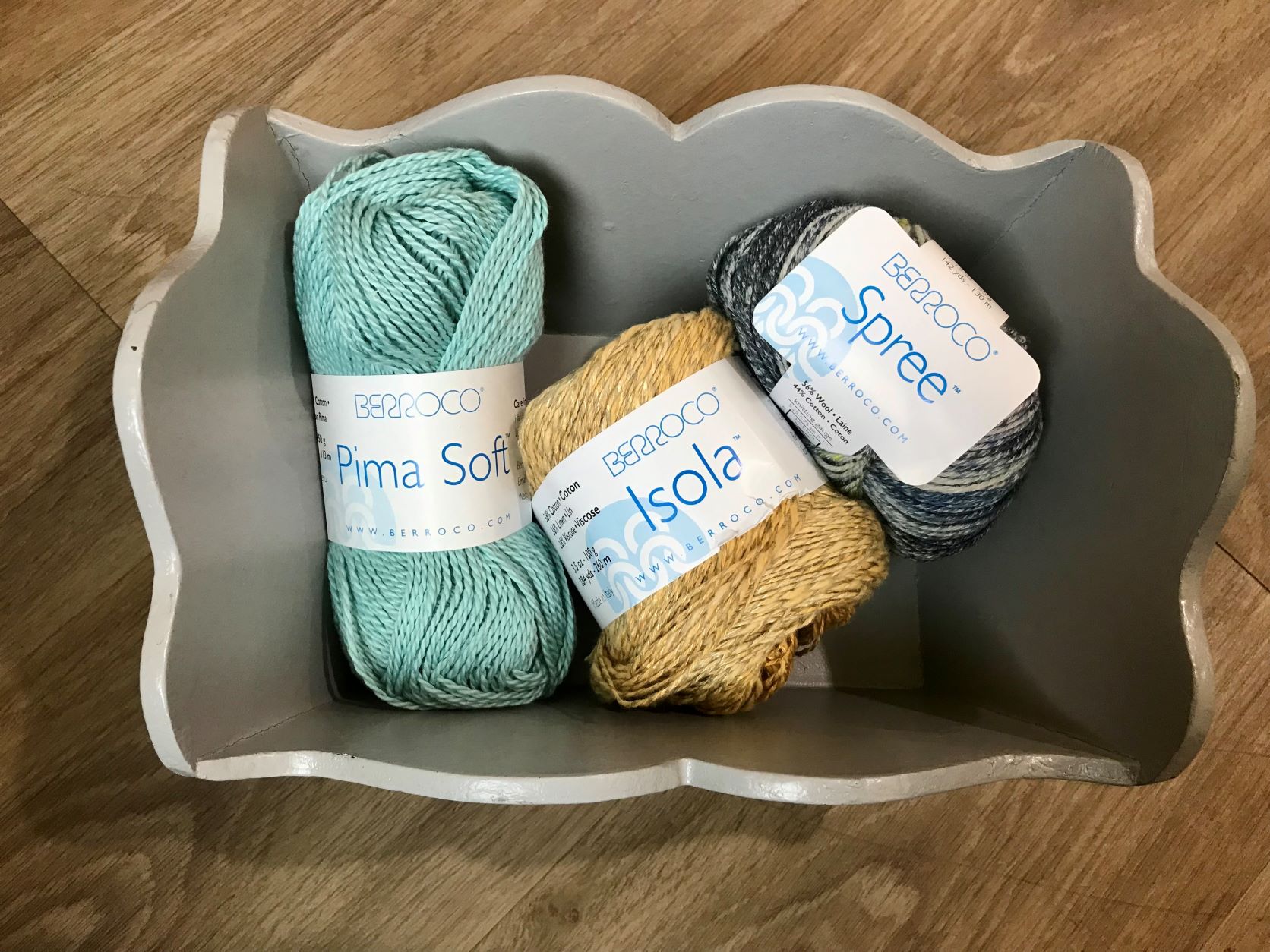 We have the Isola, Pima Soft and Spree in stock as I type this.
The other two brand-new yarns are the Meraki and the Vivo, and they will likely be available soon either on our shelves or via our online shop thanks to Berroco's lovely DropShip program – be sure you're subscribed to our newsletter to get the latest updates on what's available, as well as progress pics as we start to work our way through some of these new yarns and patterns.
And since we're already talking about them, we just wanted to add a note to say how much we enjoy working with Berroco; a big company that's doing a lot for little shops like us. They work with quality designers (like Amy Christoffers!) to create quality patterns, consistently release fun new yarns alongside the trusty 'workhorse' yarns like Ultra Wool that we love so much, and with DropShip you-the-customer are able to browse a vast array of their yarn lines on our website, more than we could ever carry in-store just due to limited shelf space, and order straight to your home.
Pro Tip: Check out the 'online only yarns' tab to see the full array of DropShip-able yarns.
Can't get enough of this show-and-tell?
Come on down to the shop to ogle these yarns in person. Live too far to just stroll in for a visit? Check out Berroco's YouTube channel to stream their virtual trunk show videos.