Hello friends,
Here we are again, standing on the verge of another holiday season. Holidays and anniversaries are funny things, aren't they? Like landmarks to connect us with the past, it's always easier to look back and remember what we were doing 'this time last year' when those memories are anchored by a holiday. But it can be a bit of a head rush, too, to feel time kaleidoscope like that: this time last year we were all thinking ahead, holding on to the hope that 'next year will be back to normal' and now, well, next year is here and the only thing we can say for sure is that 'normal' is a highly subjective term! 
Then again, there actually is something we can say for sure:
From the Sow family to your family, we're sending all our best wishes for the season and hoping that whatever your plans, you and your loved ones stay safe and well and enjoy this time of togetherness!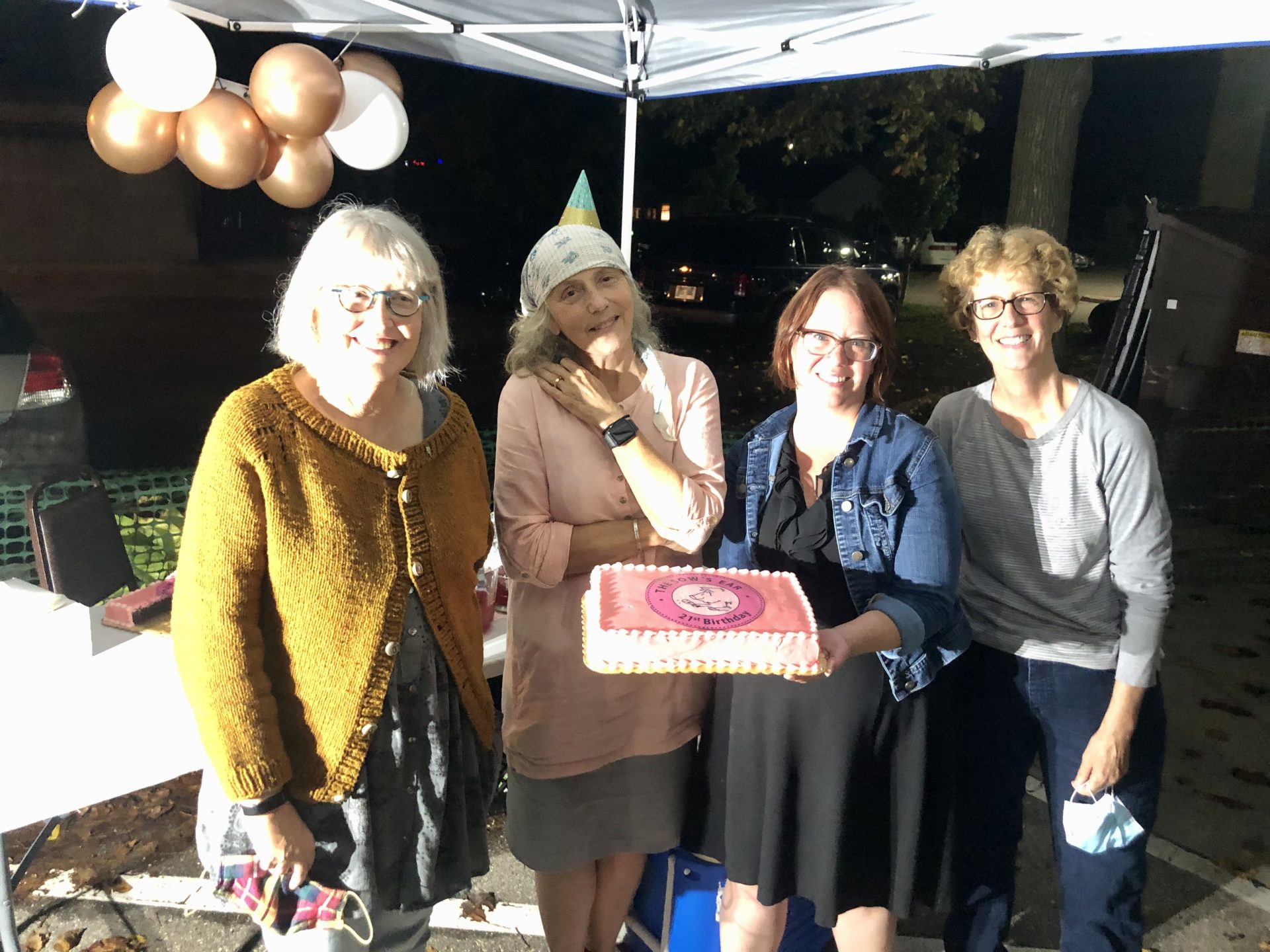 This photo was taken at the Sow's Ear's 21st birthday party in October. On the left we have Amy and Melissa who opened the Sow and on the right the current owners Deb and Melissa. The 21 years of knittin' and sippin' history in this one photo reminds us of how much we have to be grateful for in our community — starting with the community itself.
We talk about community a lot around here.
It comes with the territory, really, being both a coffee and yarn shop. A gathering space in a sense that is both quite literal but also more intangible; folks gravitate here through a love of fiber and handcrafting and as we come and go our knowledge and passion for an art that is both ancient and very much alive is gathered here, permeating the walls and burnishing this physical space with a patina of wisdom that transcends space and time. 
Speaking of transcending space and time, two winters ago yet another movie remake of Little Women was released, this one directed by Greta Gerwig. I walked into it with no expectations, and walked out utterly blown away. It is a phenomenal piece of cinematic storytelling, and while the story is told in a very different way than it is told in the book, it is presented with an overflowing sense of love and respect for the book.
And then there's the costumes….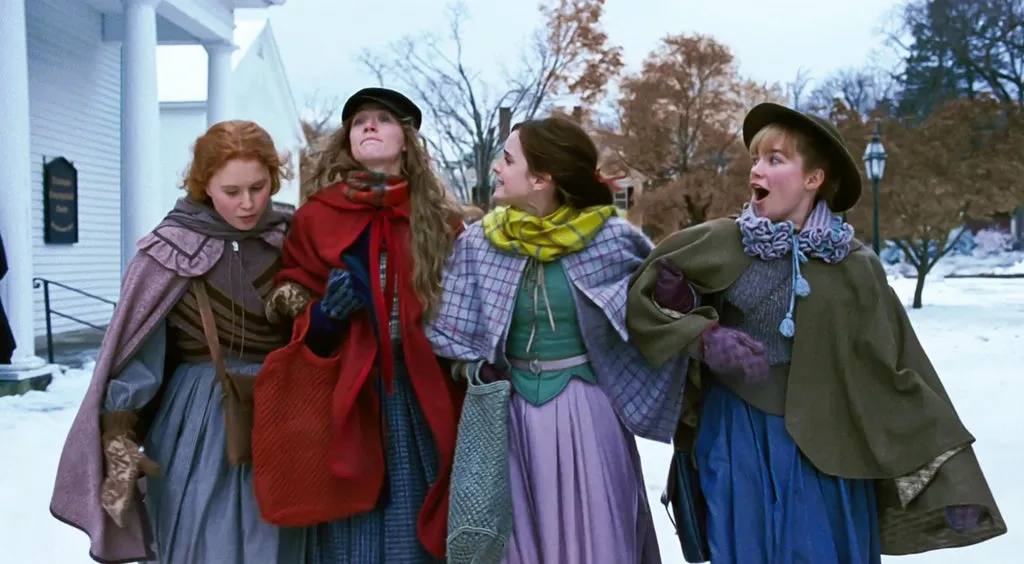 Throughout the film, each of the March girls and and their mother wears a version of the "sontag" shawl, also referred to at the time as a "bosom friend". (Read more about the movie, costumes and sontag styles in this awesome article.) What is so spectacular about this movie is how across the board, from the direction to the costume design, choices are made to honor the spirit of the story and of the times without clinging so hard to historical accuracy that it curtails any sense that the characters are living, breathing, and experiencing all of this for the first time.
Little Women won an Oscar for costume design, and I've read about a dozen articles and interviews with the costume designer, Jacqueline Durran. In one of my favorites she says, "I tried to make things period-accurate — so that the clothing exists properly within a period — but I let the girls wear it how they wanted to wear it."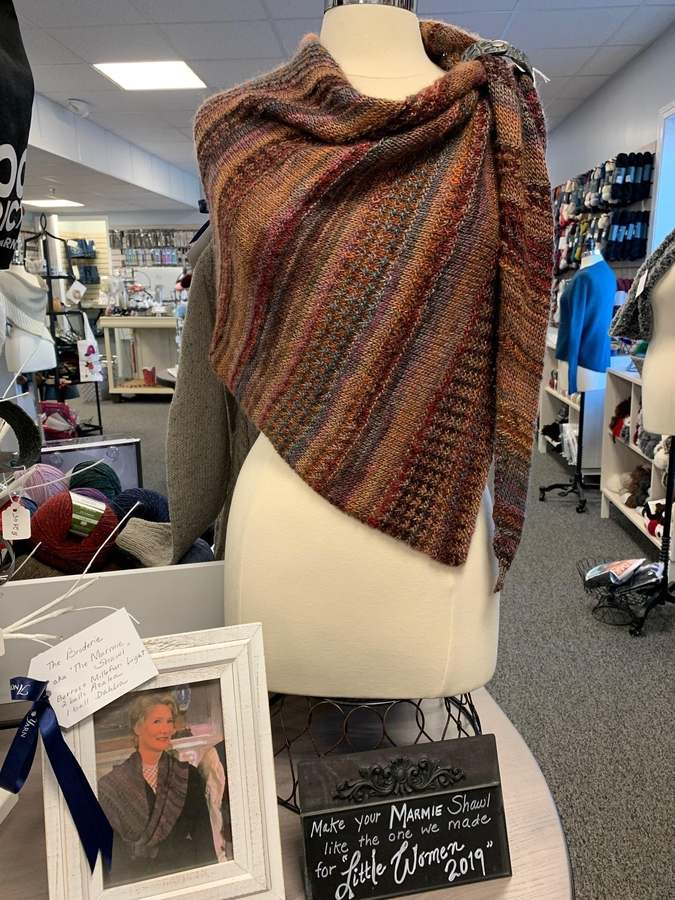 The sontags worn in the movie are not historical patterns; they're knit on circular needles using modern techniques. But the shape and the function of the finished objects are exactly as they were over a hundred years ago. The Jo, Beth and Meg shawls were designed and made by Jean Monahan who has a shop called The Fibre Workshop, a very cool sustainable and ecological operation where she produces traditional woolen spun plant-dyed Norfolk Horn yarn.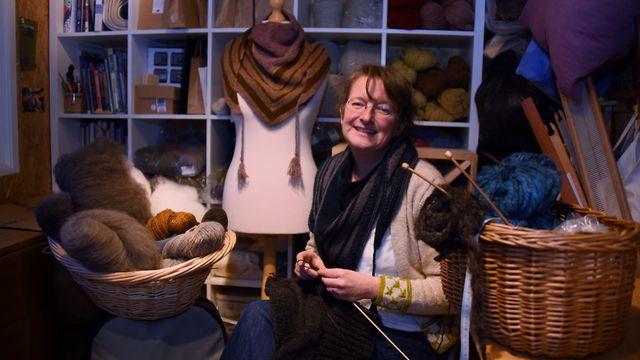 This bridge between history, modernity, and fantasy is, I think, something that appeals to all of us when we pick up our needles.
Is it clothing? Is it costume? Can it be both?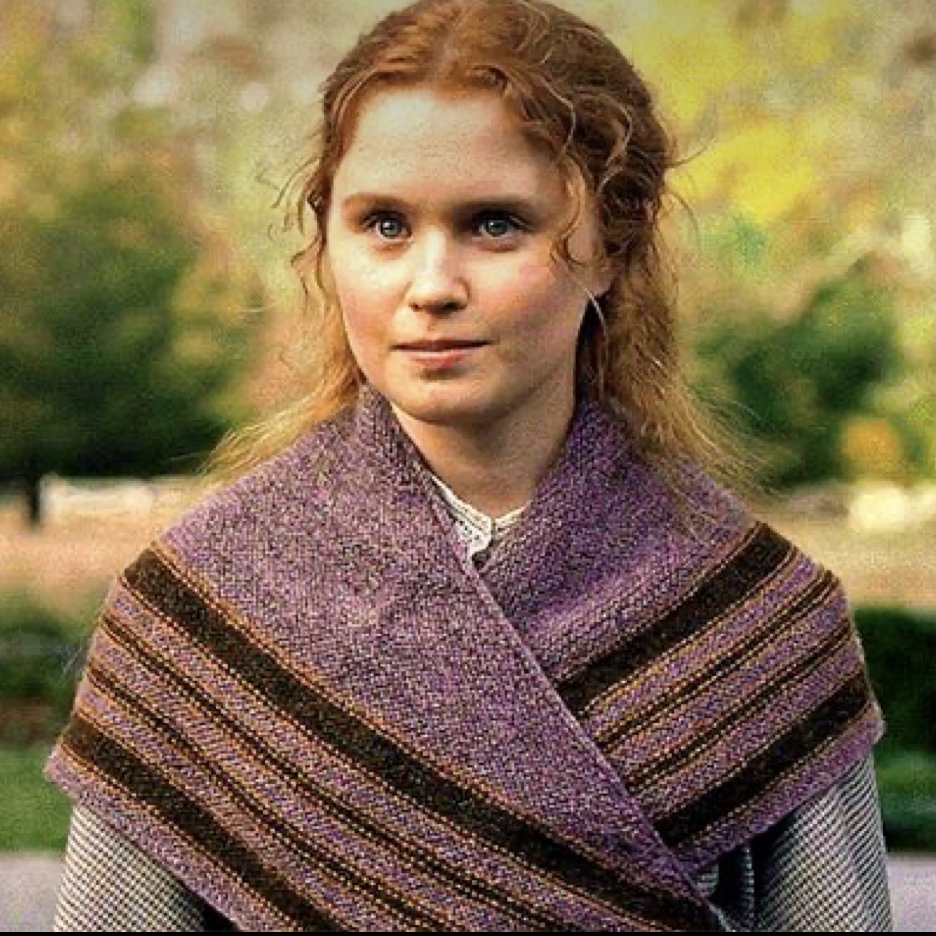 The Beth and Jo shawl patterns are available on ravelry, as are other more historically accurate patterns, for those looking to interact with that history and magic in a very material way. I've made a few, including one for my most knitworthy friend Leah, who is herself a quilter and recently messaged me to say,
On the subject of the stringed arts/sewing/quilting, I have been thinking more lately about the kind of "magic" involved. It's like you're doing a spell when you make something for someone that you love. Protection, comfort, peace, etc
Protection, comfort, and peace.
We seem to have come full circle.
Wherever we are in the world, whatever the next weeks and months will bring to us, I hope that we can all embrace and give thanks for the comfort and peace we receive from this craft that stitches us together with one another here in the present, as well as with all the many generations who came before, and with those whose lives we will touch as we pass on our gifts.
This is Rose, signing off on behalf of the Sow family and wishing you all a very happy holiday season.