Since 1970, June has been known as Pride Month, and at The Sow's Ear we are proud that we fly this flag all year long: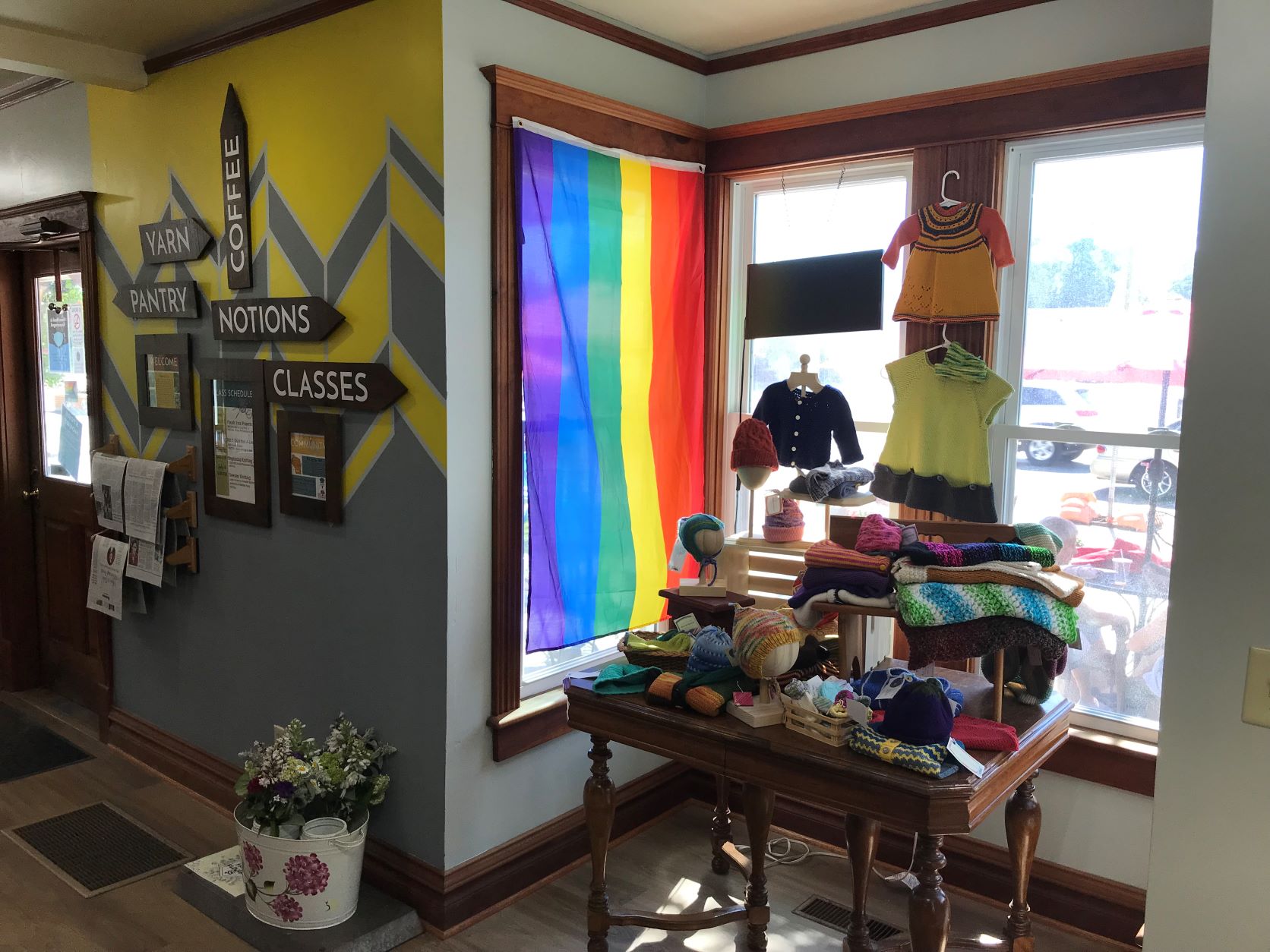 Today, this month, and all year long YOU are welcome here, just as you are. At the Sow's Ear our customers come from all walks of life, and so do we; we love our community and are very proud of it, too. This is a safe and loving place where we hope that folks of all backgrounds and from every beautiful stripe of the LGBTQIA+ and gender spectrum will feel welcome and cherished.
We see you, we care about you, and we celebrate YOU! Happy Pride, Friends!
---
Here at the Ear we are also excited to join our friends The Fibre Co. and MadTosh to promote June as The Month of Socks!
We've got some phenomenal new resources including an all-in-one pattern booklet to go along with free classes from The Fibre Co, plus other sweet sales and a whole lot of enthusiasm to help celebrate these easily-overlooked accessories that are, truly, the heart and sole of many a knitter's wardrobe.
There's a lot of good stuff to get through today so we're going to dive right in — but first, don't forget that World-Wide Knit In Public Day is right around the corner on June 11th and we are throwing a parrrr-tayyyy!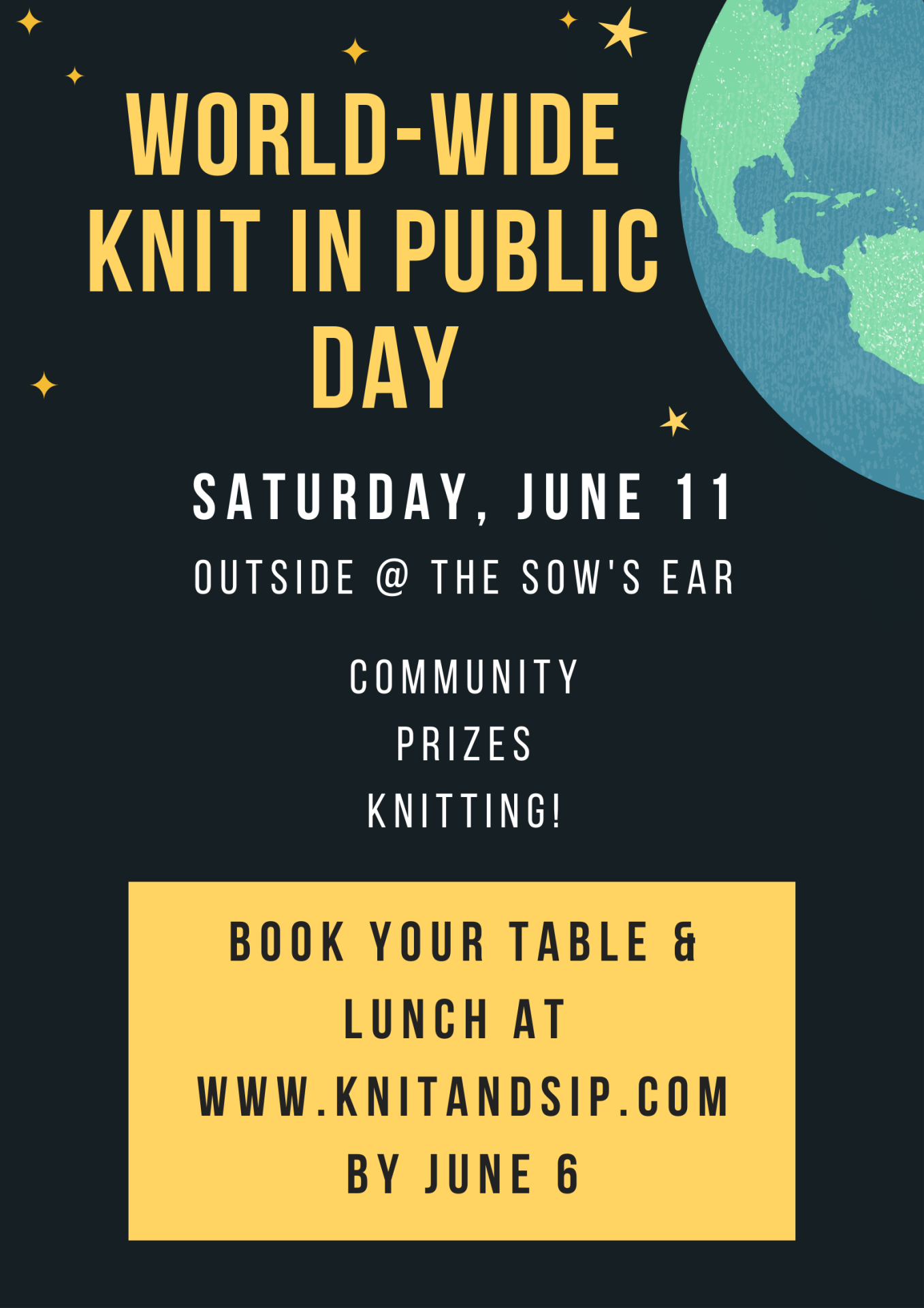 Click Here and select "Free In-House Fiber Events" to reserve your table, and then Click Here to pre-order food. We're bringing back our tuna salad and our hummus for this one-day-only event, so if you've been missing them, be sure to order by end of day June 6. All our regular menu items will be available day-of, but we expect to be extremely busy (there are other non-knitting events in Verona happening that day) so we highly encourage you to order ahead!
Anyway, back to socks…
Here's the scoop. For the month of June:
+ All in-store Ravelry sock patterns will be 20% off, limit 3 per customer
+ All sock-related pattern books will be 15% off (includes Laine's 52 Weeks of Socks)
+ Build-your-own Amble sock kits: Any combination of full-sized and mini-skeins of Fibre Co. Amble will get you 50% off the printed "One Sock" pattern booklet. You don't have to buy both full- and mini-skeins, it can be just 1 full skein + pattern booklet, etc.
Online shoppers: add the booklet to your cart and use the code SowSocks at checkout to get the 50% off
+ Fiber Co. virtual class: Fiber Co. is offering 4 free virtual sock knitting classes! Friends, THIS IS SUPER EXCITING! We are big fans of The Fibre Co. around here, from their yarns to their patterns, and are thrilled to pass along the news of these free classes to you. Sign up SOON because the first class begins June 8th.
Get excited: The Sow's Ear will be getting 3 exclusive colorways from MadTosh on their Tosh Sock base! Watch our social media for news about this…
And speaking of Social media: make sure you're following our Instagram and Facebook pages so you can see other customers' progress and share your own with the following hashtags: #SowSocks, #MonthOfSocks, #SowHandmade. We love to repost our friends' projects, so make sure you tag us!
Whether you love to knit socks or you need a little convincing, we've got something for you! But especially if you haven't quite made the leap yet, or have had some sock-related setbacks in the past, we would really love to talk with you, encourage you, and help set you up for socky success. Here are just a few reasons we love them:
Socks are small and portable, so you can work on them anywhere, and you don't have to have a heavy full-sized project sitting on your lap during the hot summer months! A pair of socks takes (less than) a full skein of that special fingering-weight yarn you've been saving, and it's a good way to try new stitch patterns on a smaller scale! There are so many different methods for toes and heels; embrace the adventure and find which method you enjoy making and wearing the most!
Hope to see you 'round the shop to talk socks real soon!