There sure is a lot of red and pink everywhere you look this time of year.
It's a holiday without a lot of middle ground, and it can be difficult to find anything to say about it that is both authentic and meaningful across the beautiful, incredibly diverse rainbow of human experience.
So instead of adding to the noise we would like to share with you four designers who are dear to our hearts, four humans who embody the kind of love that we all want to have in our lives:
Love of self, of our minds and bodies just as they are; love of community and heritage; and of course, love of craft and passion for teaching, sharing, and creating community.
Please join us in loving on Sylvia McFadden, Brandi Cheyenne Harper, Jennifer Berg, and Jacqueline Cieslak.
All social media/pattern photos and quoted text below are the property of the designers.
---
Sylvia McFadden
Kaylin led a knit-a-long for Sylvia's ethereal Waiting For Rain shawl a few years ago (check out Kaylin's here) and we've all been a little in love with her playful, elegant, distinctive style ever since, just as we love the way she talks openly about being neurodivergent and chronically ill, folding all these aspects of herself into the story of her life as a knitter and designer.
From the Baleen pattern page on Ravelry and Payhip:
"I designed Baleen in October 2017. Once I'd finished knitting up the first sample it was the most proud I'd ever been of my knitting ever. And the sweater came out as just the most beautiful thing I've ever designed.
But in the many years since then I've struggled to complete the pattern. I couldn't figure out why. I struggled my way through every bit of learning to grade patterns, organize my thoughts enough to manage the workflow of it, organize testing or just anything. I couldn't seem to do any of it properly or consistently enough to get it done.
Over the 4 years I've learned a lot about myself and my brain. The biggest thing being that I am wildly neurodivergent. With these discoveries came new ways of doing things. Ways that honoured my brain instead of punishing it. And eventually finding ways that actually worked for me, as who I am, without having to constantly struggle without language to explain what I'm experiencing."
---
Brandi Cheyenne Harper
"Joy is an act of resistance." 🔊 Sound up and smile.
Brandi recently published the book "Knitting for Radical Self-Care" which we sold, sold out of, and will absolutely sell again because it is a goldmine of wisdom for this and every age. From the introduction:
"celebrating black women
I am Black, of African ancestry. A Black woman. A Black knitter. A Black queer. A Black woman who loves Black women. Toni Morrison declared, 'If there is a book you want to read, you're going to have to write it yourself.' I want to share the story of a little Black girl, fourteen and ambitious, who taught herself to crochet, inspired by her grandmother's afghans. […] I hope a little Black girl learning to make her own clothes will pick up this book one day and see herself represented in the pages. This book pays homage to my revolutionary ancestors and living peers who advocate for their freedom so we can do the same."
You can (and should!) listen to Brandi on the Hey Girl podcast over this way, and here are some beautiful words from our own Sarah R on what this knitting project meant to her:
"As I'm currently meditating on the theme of knitting as armor, I found the designer's description of Audre Lorde, the pattern's namesake, quite fitting: "Audre Lorde is an armored suit, soft and malleable. Her words protect me from myself, drawing attention to the gap between living fully in my potential and hiding from visibility." I hope to pass on that sense of protection to those I care for through the projects I knit from this book. It's rather sentimental, but I am truly grateful that this book has come to me at this time. It is proving again and again to be exactly what I need."
---
Jennifer Berg
Do you get our newsletter? Last week's issue was a whole love letter addressed to Jennifer Berg, and it is right here for you to read. That gorgeous sweater Jennifer is wearing above is her Sheep Camp sweater (Ravelry, Etsy), and below are Sara and Sarah rocking theirs: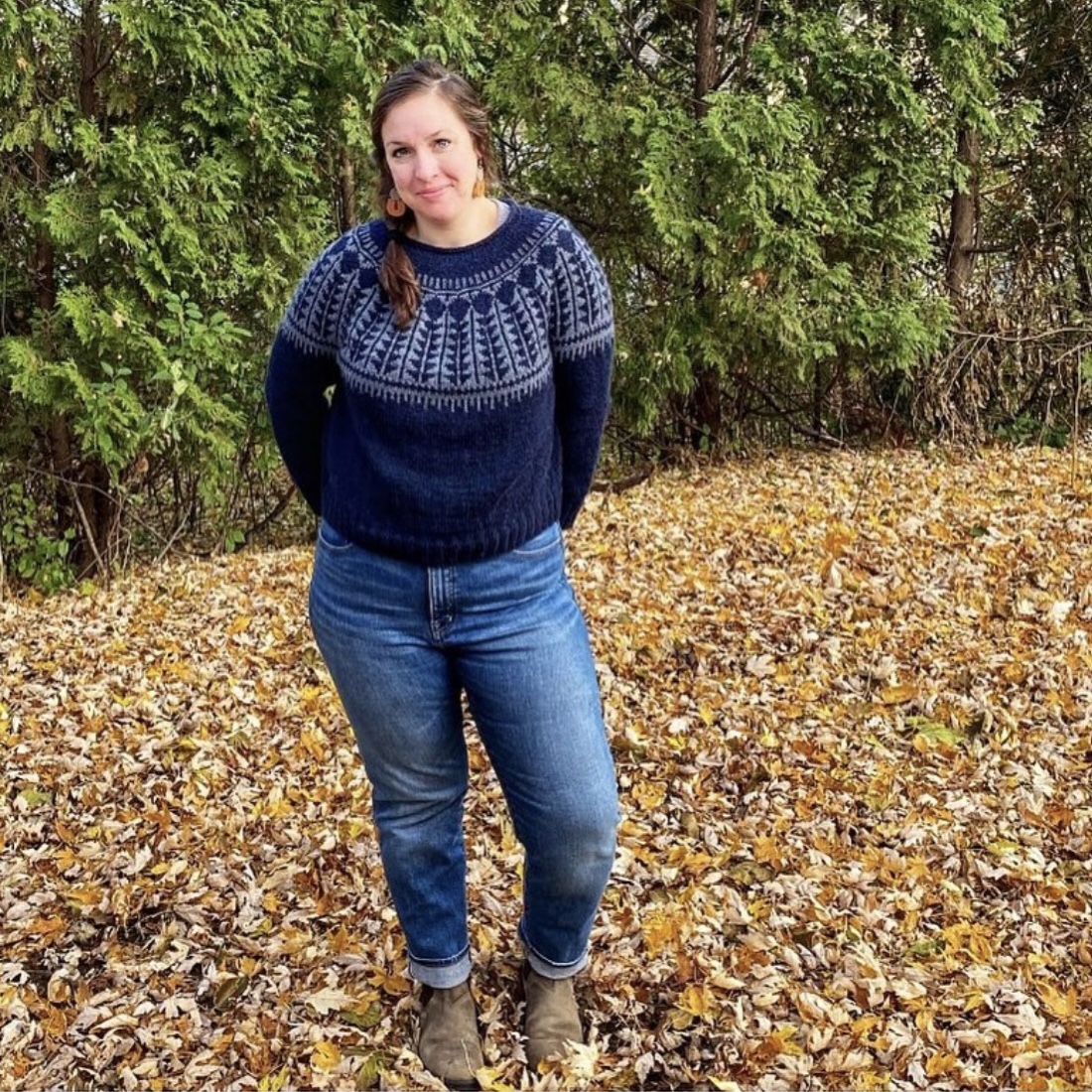 ---
Jacqueline Cieslak
A ray of sunshine in a sometimes-dark world, no list of knitting activists would be complete without the incomparable Jacqueline Cieslak.
"I am a cultural anthropologist turned knitting pattern designer, teacher, and maker based in California. My training as an anthropologist shapes my work as a fiber artist, which I approach with a critical, intersectional body positive agenda. My pronouns are she/her.
As a designer, I am deeply invested in creating patterns that are inclusive and accessible for a wide range of body types and abilities. I believe that creating clothes to fit your own body is a practice of self-care, and for those in the most marginalized bodies, it can be an act of resistance. Whatever their circumstances, I hope my designs empower makers to realize they (and their bodies) are worthy of comfortable, well-fitted clothes that reflect their personal style.
With 8 years' experience teaching college students, I approach teaching as a pedagogical blend of theory/practice. For example, I strive to help students understand the anatomy of knitted fabric alongside developing the muscle memory for specific stitches. I love nothing more than learning in community, and I work to cultivate classes where the best ideas and inspiration come from the collaborative process of sharing with like-minded creatives."
---
Who are YOU crushing on in the fiber community?
Who would you like to see featured in our blog or newsletter? Drop us a comment by emailing News@knitandsip.com or share your design crush by tagging us on social media – we track the tag #SowHandmade, come share the love!