All our recommended fun/easy/giftable pattern + yarn combos in one place!
Hello, happy December! You know you can count on your friends at the Sow when you have a question or need a recommendation for a pattern, and as we wade into Gift Knitting Season, we thought we'd assemble some of our favorites here for your perusal.
And after you've checked out all of our recs, at the bottom you'll find links to two collections of giftable patterns by designers we admire.
Sending you all the warmest wishes of the season, and hoping you have many #knitworthy people in your life to appreciate your amazing gifts!
---
Shik'is means "My friend" in Navajo, so named "because I'd love for you to make and gift any of these patterns to a loved one, a new friend, or your family members over this season," says the designer. Sara has put together several color combos in some of our favorite yarns: Malabrigo Rios, Berocco Ultra Wool, and Madelinetosh Vintage.
We've also got several stunning and atmospheric issues of Nomadic Knits in the shop.
In the Nebraska lookbook you'll find this Husker's Hat, which Sara suggests in a couple of very classic and classy color combos.
And then, if we could direct your attention to this stunning colorwork cowl.
Written for two contrasting colors, the designer suggests 'semi-solid or tonal […] this cowl will look great in any smooth fiber that shows off colorwork!' and Sara wants to try it in Croft, paired with something solid to set it off.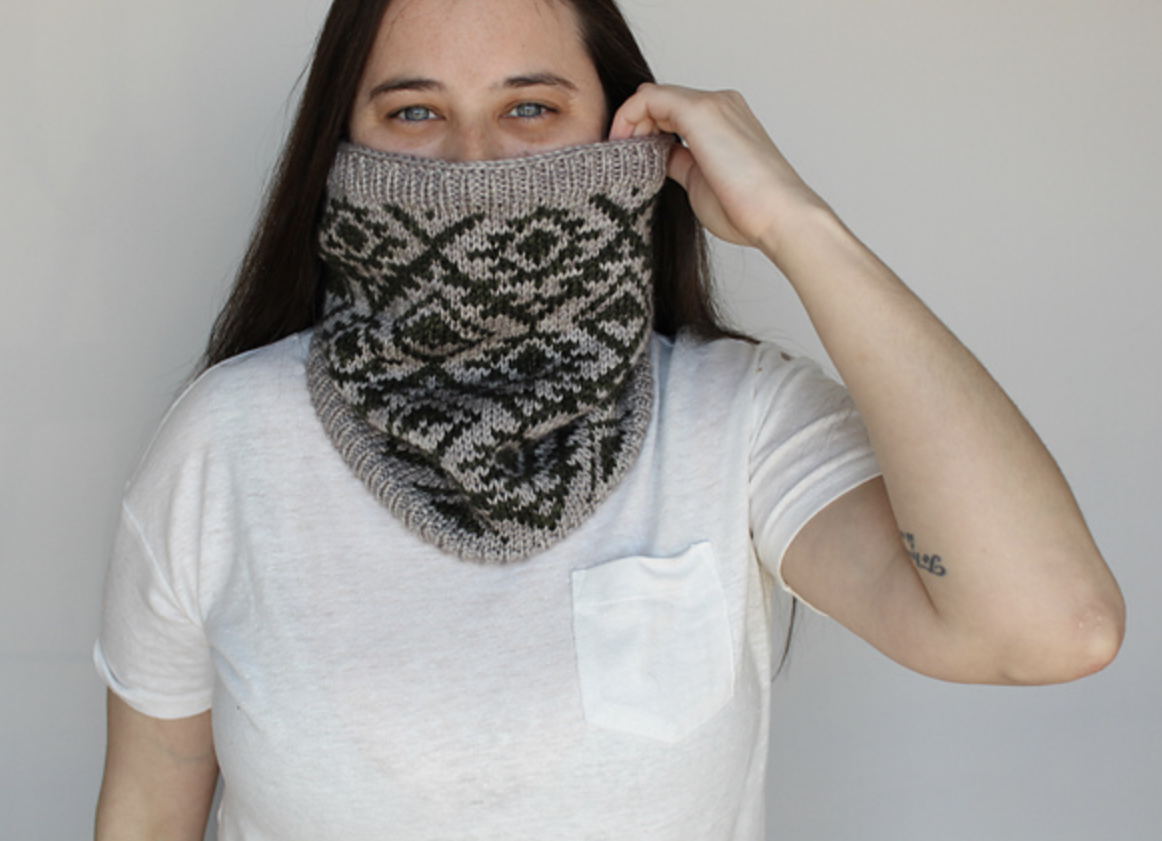 ---
The two photos on the outside show the mitt's durability and versatility — they are truly meant to be used and if you choose the right yarn, something very wooly and non-superwash, they will hold up to whatever you throw at them. Berocco Lanas, Rowan's Felted Tweed held double (as in the middle photo), and Ewetopia DejaVu are her top picks (though she's dying to make herself a new pair from one of the new WYS Aran weights Brian is recommending below!)
---
From Sarah R we have two recommendations: the Sarandi Hat by Yoko Hatta and Look At My Holes by James Watts
Sarandi knits up quick in two colors of Malabrigo Mecha, a staff favorite for its incredible array of luscious colorways that shine in this bulky single-ply. Make a matching pom-pom or check out our selection of fun, Tribble-like Furreal Poms!
"It's not the season for it," Sarah says of this lovely mesh top, "but Look At My Holes is my current fave gift knit, it goes quick and is universally flattering! I'm a big fan of using the Neve, Juniper moon's cotton chainette, or Rowan Cotton Cashmere." So if you've got a tropical vacation planned, or if someone on your gift list lives in the Southern Hemisphere, Look At These Holes!
---
We actually have the Hiberknitting book in stock, 6 classically Stephen patterns including this fabulous hat which is written for an Aran weight held with mohair. "Ewetopia's dejavu plus mohair is excellent," says Brian, but adds that the design works just as well with a single strand of Aran or worsted weight. We have some new breed-specific Aran weights in from West Yorkshire Spinners, and a number of excellent mohair options including Melissa Brown's hand-dyed Soft and Fuzzy (pictured below right along with her Donegal DK — if you're up for a little gauge-math, they'd make a perfect pairing for this hat!), and this mohair silk from Sandnes Garn
---
Two cowl recommendations from Crystal: The GAP-tastic by Jen Geigley, and the Honey Cowl by Antonia Shankland.
The Honey Cowl (right) is written for Tosh Vintage and would be delightful in that or in Malabrigo Caprino. May we suggest Malabrigo Rasta Pintada for the GAP-tastic (left)?
---
And finally, Kaylin would like to suggest the Sitka Spruce Cowl by Jamie Lomax, the classic Antler Toque by Tin Can Knits, and both the Musselburgh Hat by Ysolda and the Sockhead Slouch by Kelly McClure.
The Sitka Spruce Cowl is a brand-new pattern dropping THIS FRIDAY aka tomorrow aka December 3rd. Here's a little sneak peak, knit at left by our own Kaylin out of our collective favorite Malabrigo Rios. "I need another cowl out of Rios ASAP, this stuff is a dream." Follow @pnw_knitwear to snag the pattern when it comes out!
The Antler Toque by Tin Can Knits is a true classic. A freebie pattern, it's written in their wonderful baby-to-big style so you can find a size suitable for the whole family. It's great in any worsted weight yarn, and Kaylin recommends Berocco's Ultra Alpaca Natural.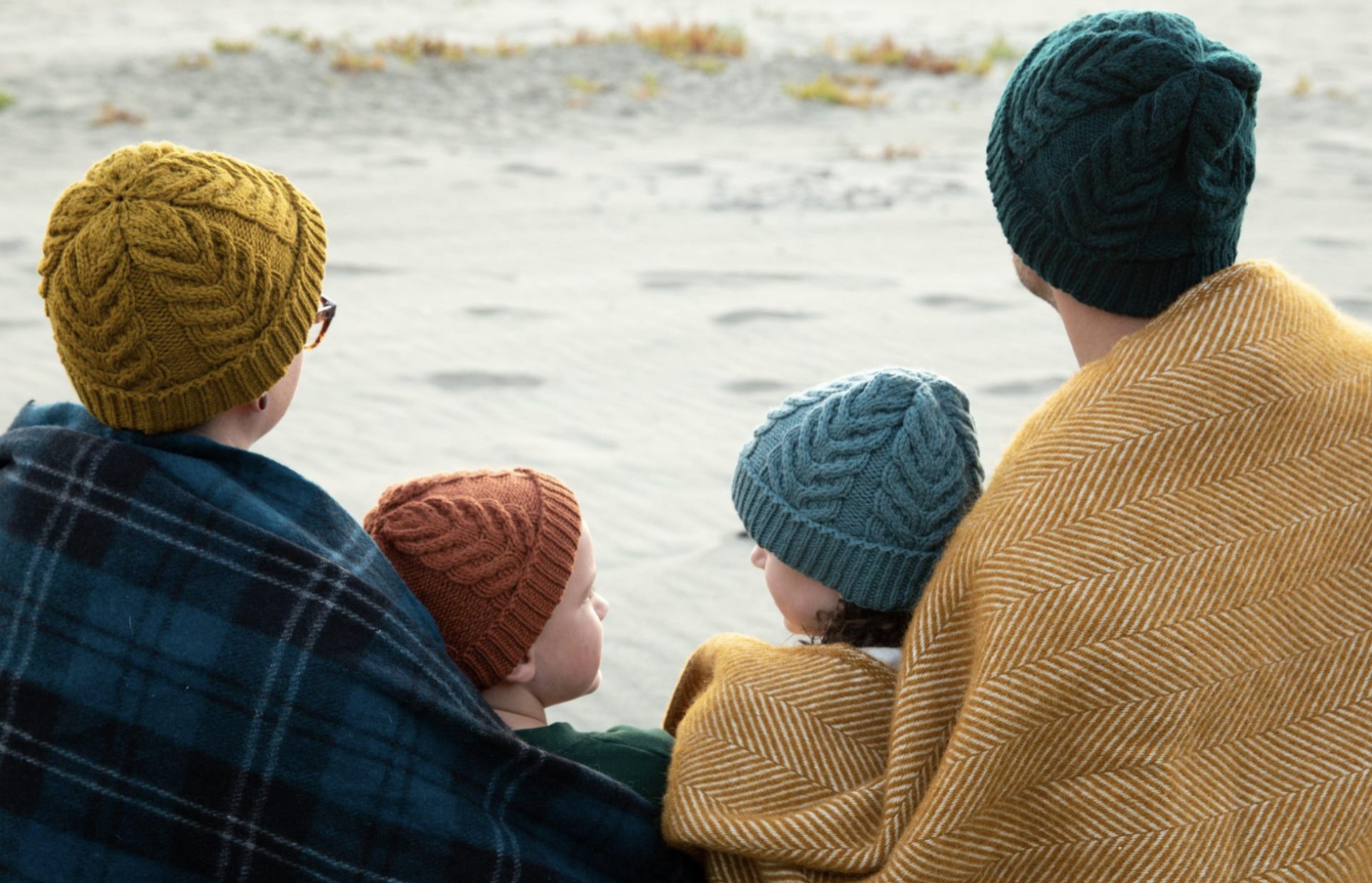 And if you're looking for a hat with the kind of simple, timeless silhouette that looks good on everybody (and makes for great Netflix knitting), look no further than one of these tried and true stocking caps.
The Musselburgh by designer extraordinaire Ysolda Teague, is actually double-knit: "inspired by a World War II era pattern for a Fatigue Cap, [… the] pattern is simply a tube, seamed at each end and folded in half inside itself." An excellent choice for a cold-weather giftee, it is a bit trickier due to its cast on, making the Sockhead Slouch a good substitute for a slightly lighter hat. Kaylin recommends any of the Stitch Together yarns for either of these hats!
---
And finally, as promised, links to two collections of fabulous giftable projects by two of our all-time favorite design teams.
First, Ysolda Teague's Knitworthy Collection. "The Knitworthy patterns are all about celebrating knitting to warm the ones you love. These designs are intended to make great gifts for everyone on your knitworthy list (because life's too short to knit for anyone who doesn't love what you make).
All of the designs are intended to be fun and relaxing with an excellent return of impact for effort put in because you deserve a treat when knitting too." Every pattern is available individually, or you can buy them by the bundle.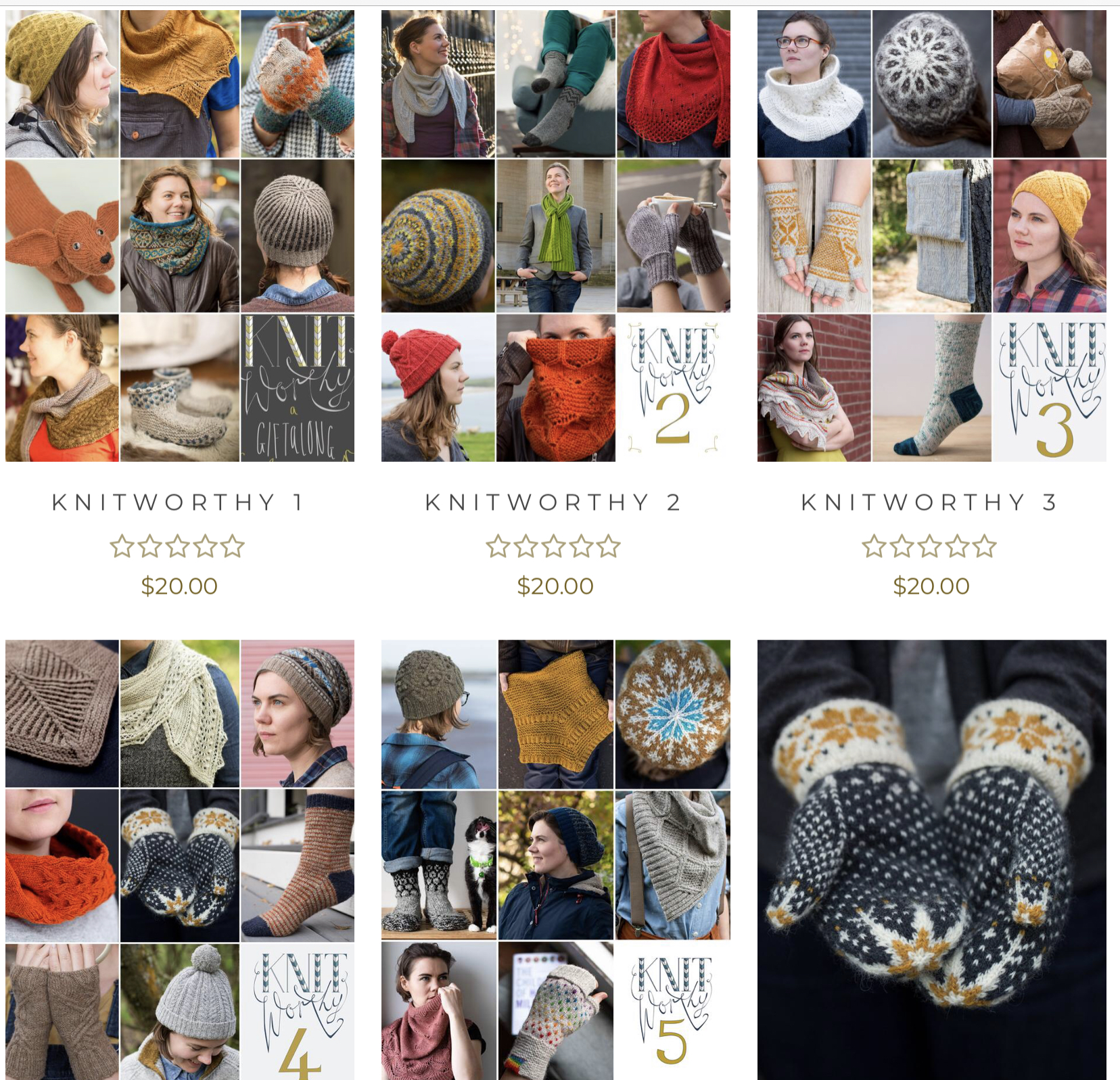 Next, the Simple Collection from Tin Can Knits. "With 12 excellent free patterns (including 3 sweaters!) plus clear tutorials, the collection is perfect for newer knitters building skills and confidence, and also a treat for experienced knitters who enjoy modern lines and simple details.
Whether you are knitting your first scarf, cozy socks for your dad, or a sweater for a little one, the Simple Collection will teach you all you need to know to make modern seamless knits for the whole family!"