We all know what a treasure our little shop is, so it's pretty wonderful to hear that others think so too:
"The Sow's Ear is an anchor to our downtown business district. During the past year, they have worked really hard to serve their customers by adding more retail products to their space on Main Street." – Halley Jones of the Verona Area Chamber of Commerce.
Hear that? We're an anchor!
It was our commitment to keeping our community strong during really tough times — by finding creative ways to engage with our customers and also by uplifting other small businesses and artisans — which helped us win the Wisconsin Economic Development Corporation's (WEDC's) inaugural Main Street Mini-Makeover contest!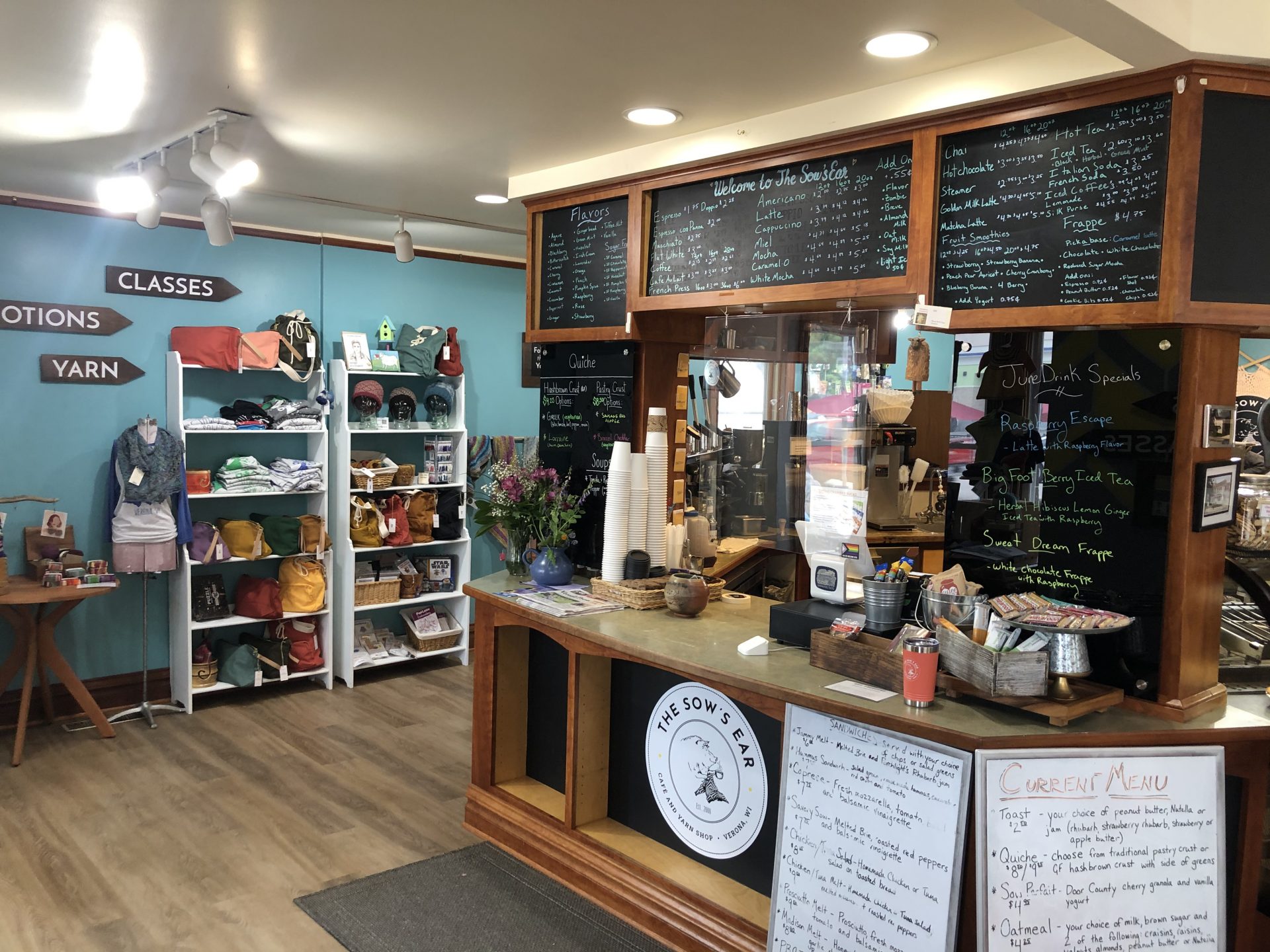 Rather than a full structural overhaul (that would be the Maxi-Makeover contest :D), the Mini-Makeover offered us a simpler approach to revitalize our space: consulting with interior designers to update things like layout, signage, paint, and merchandise displays.
From the WEDC press release: The goal of the makeover is to update the space and reflect the quality products and services offered by the shop. "The chambers like the one here in Verona, the businesses like Sow's Ear, the communities that have kept coming into these businesses through a really tough year is really, is that glue that is keeping our communities vibrant and our businesses strong," WEDC Deputy Secretary Sam Rikkers said.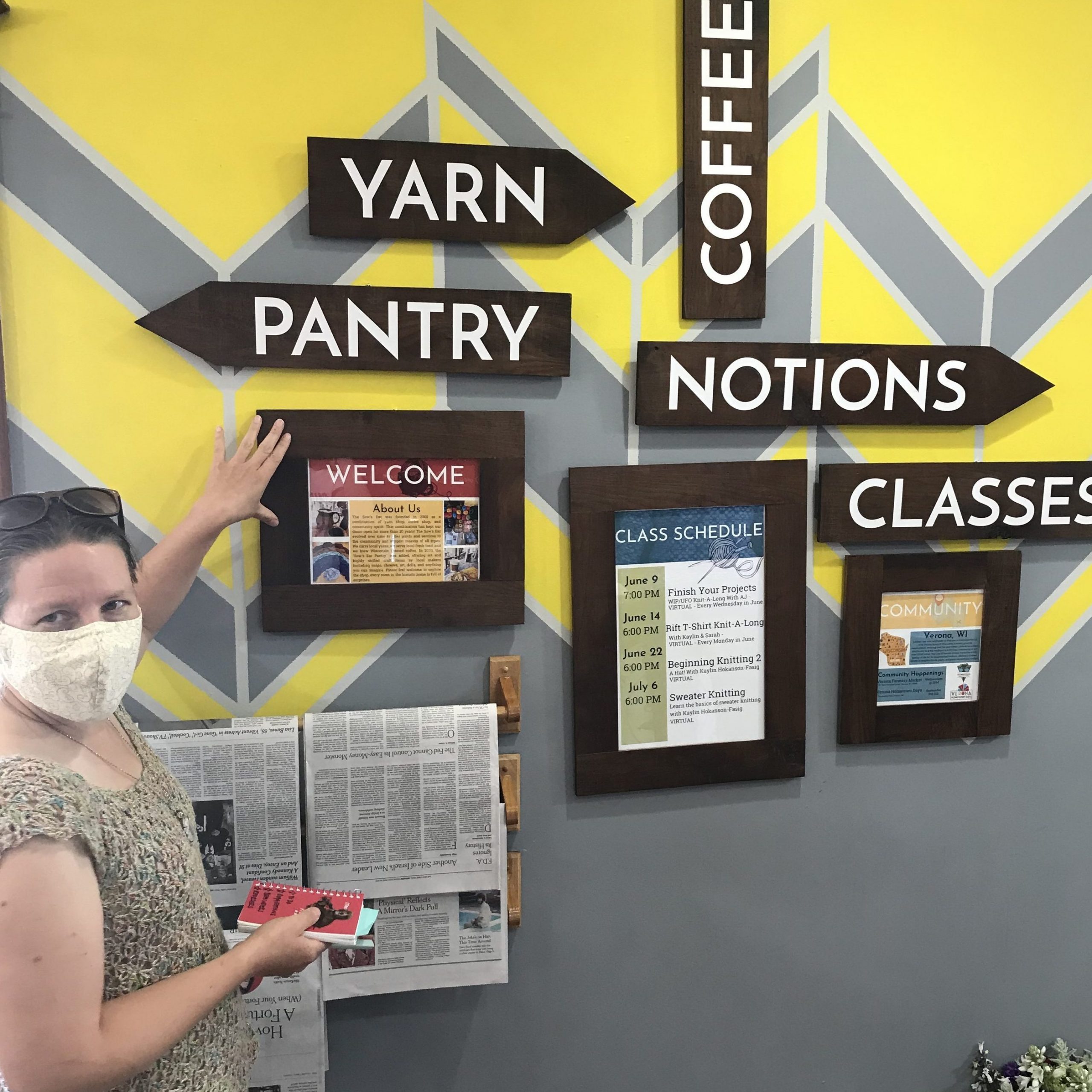 We got to work with the Milwaukee-based interior design company Retailworks Inc for a long period of time during which they got to know our shop and our staff, so that the end result would be a really genuine reflection of our vibe as a community. On June 6th we closed for a 24-hour transformation, reopening the next day with a YARN-cutting ceremony (because it is us, after all!) to mark the occasion. Didn't catch the news that night? We got you…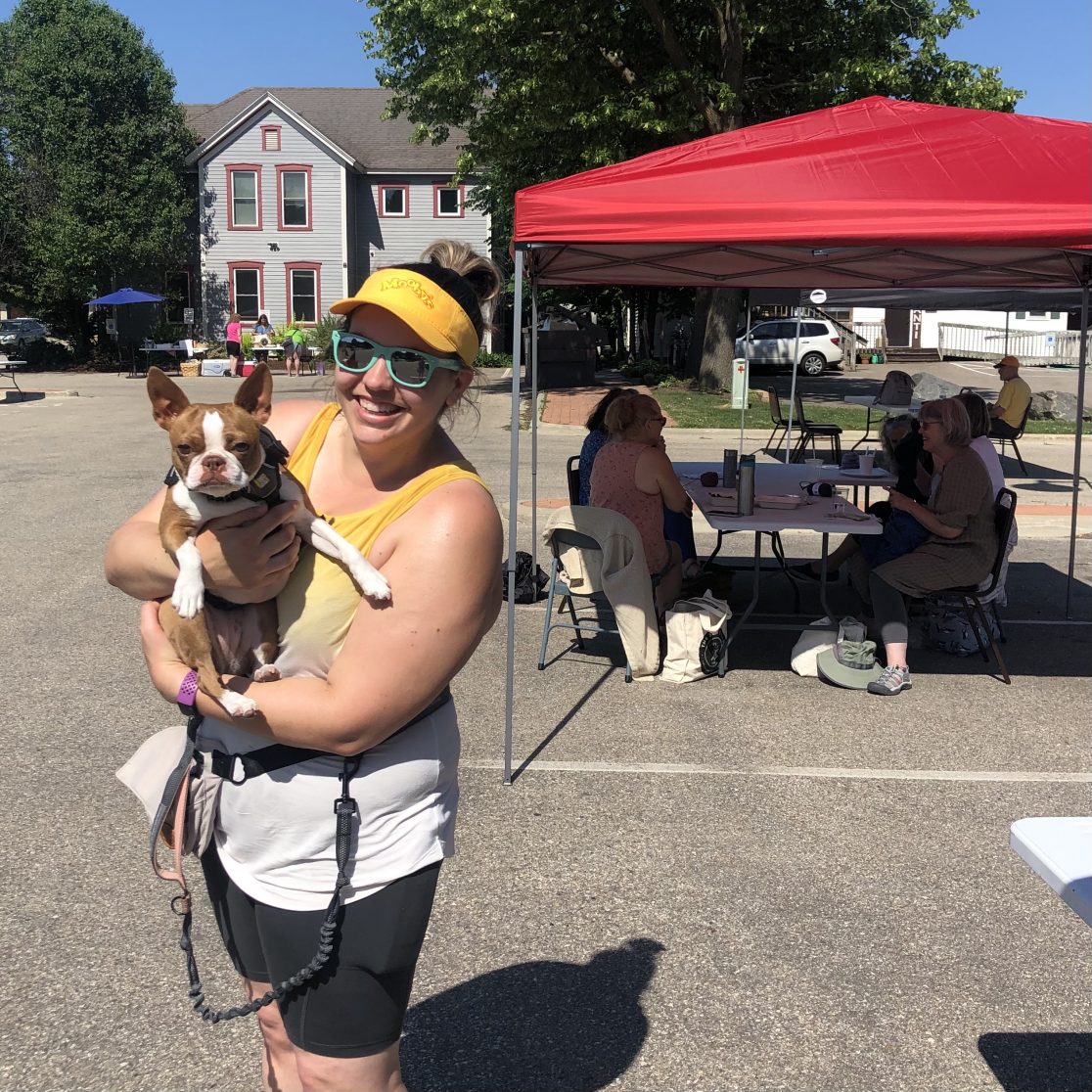 Anyway, wow, who else gets completely derailed by cute dogs? Let's get back on track…the Makeover! Click here for the Channel 15 news item, better interior shots but 100% less Ginger.
"A vibrant downtown is critical to the overall economic health of a community, and recognizing and assisting the small businesses that make these districts thrive is key." — Missy Hughes, secretary and CEO of WEDC.
Click here to read more about WEDC and the Wisconsin Main Street Program, and then scroll down for a virtual tour with Jen!
But first, some big thanks are in order to the people and initiatives without whom we wouldn't be here celebrating right now:
+ A lot of really hard work on the part of the staff; y'all brought your creativity in spades, coming up with brilliant ideas on the spot as well as bringing your flexibility and agility when asked to change and change again. You kept our shop viable and vibrant through very difficult and exhausting circumstances — hats off to the Sow family.
+ A lot of community support and buy-in; when the chips are down we see what matters to a community and we are so grateful for the support of the Verona and greater Dane Co. community. So big thanks to our customers and to Halley Jones and the VACC for bringing this contest to our attention in the first place!
+ The Sow's Ear pantry, the brainchild of our owner Deb and café manager Mya. The Sow's Ear is a destination spot, people come to us from all over not just from Verona, so we wanted to take advantage of that fact to uplift our community; once you walk in the doors, you're surrounded by goods from local artisans and crafters.
This is Mya, our intrepid Café Manager, posing in front of her newly spruced-up Pantry display >>>
She has put in an incredible amount of time and effort to bring us an amazing array of local vendors to bring the vision of the Sow's Ear Pantry to life.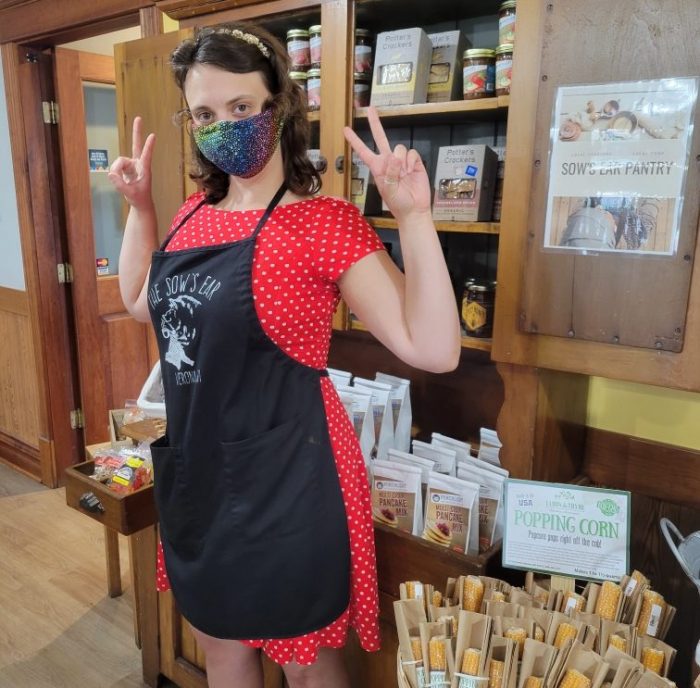 Jen takes us on a tour of our newly made-over space!
Thank you for coming along with us on this Magical Mini Makeover Tour! We hope to see you in the shop soon to check it out for yourself.
Before I sign off, one last bit of business! This is Rose, you may know me as the newsletter-writer…but here I am, bloggin' away! I've actually never done one of these before, so I ask your patience (and constructive feedback, if you have any!) as I find my footing working with this new-to-me platform. And speaking of the newsletter, we just found out that no one who submitted their email via the contact form on the website anytime between January and now has been receiving the newsletter. Big apologies for that! If that's you, or if you didn't even know we had a newsletter and are interested in getting on that train, please click here to hop on over to our home page, scroll down, and enter your email in the "mailing list" form. That's where we announce new yarns, sales, events, and give pattern/yarn combo recommendations…and where I sometimes ramble on about how much I love fiber artistry and The Sow's Ear. If that sounds like fun….join us!