Wow, can you believe it's been a month since World Knit in Public Day? It was such a special event, we feel like we've been floating on a cloud of good vibes ever since.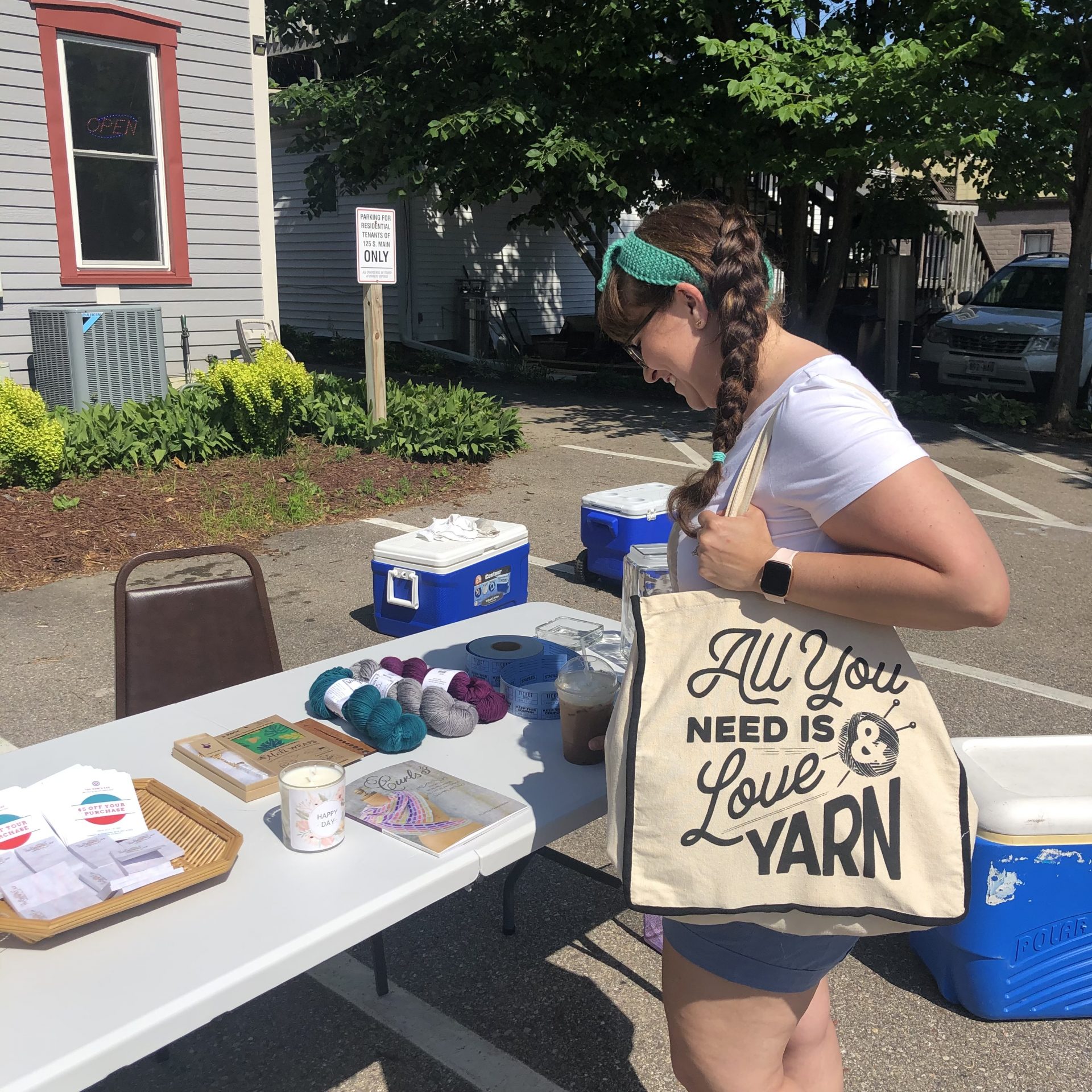 We were gearing up for a big yarn party in March 2020 when we made the call to shut down, so it was very special and satisfying for our first in-person event in over a year to be…a big yarn party!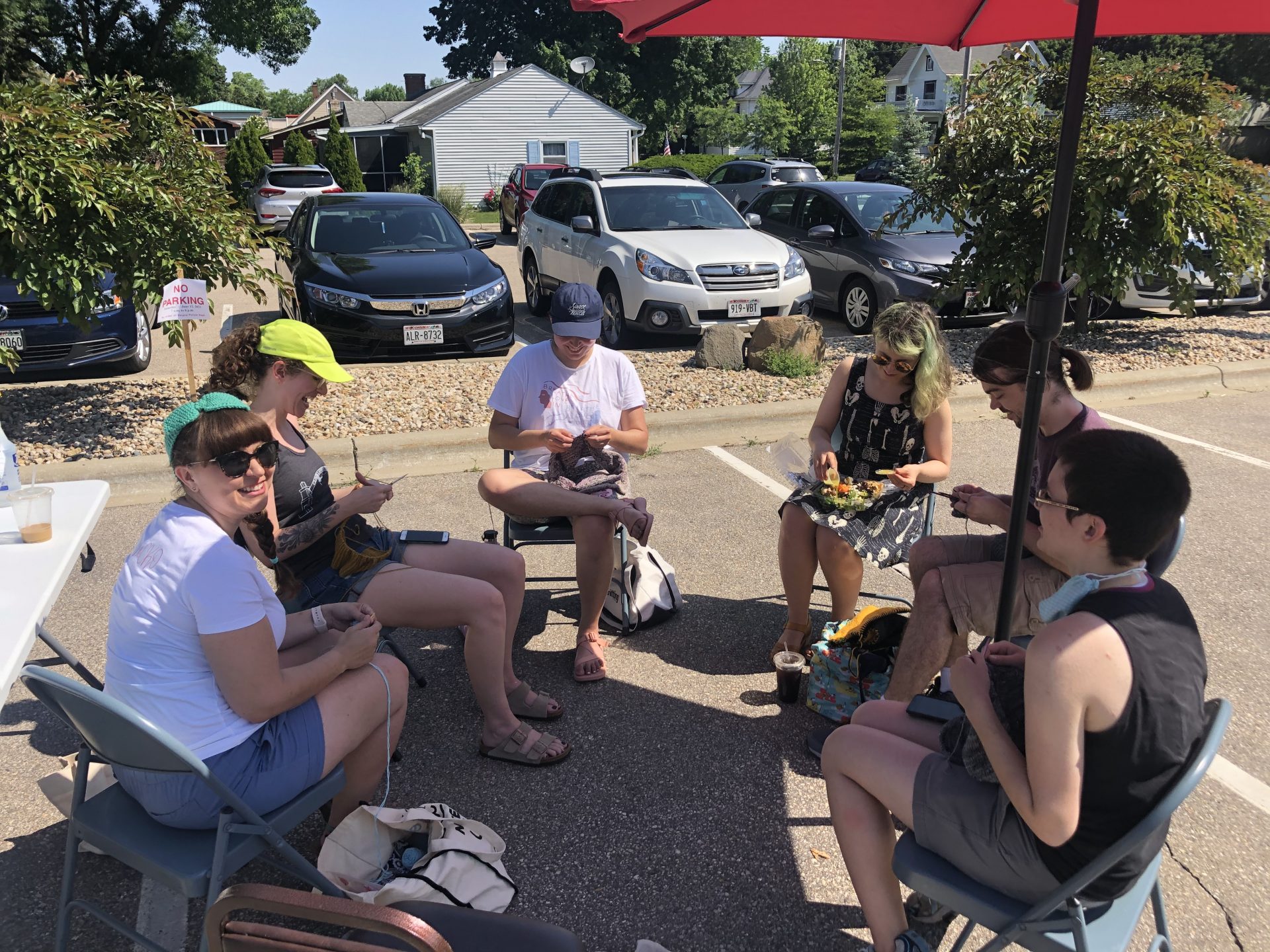 Hey – while we've got you, if you've recently signed up for our email newsletter and haven't received anything from us, we just found out the link wasn't live! Our bad! So if you'd like to join the party, hop over to the home page, scroll all the way down, and (re-) sign up. Sales, events, classes, new yarns and pattern ideas all get announced there.
---
World Knit In Public Day Projects – Where Are They Now?
---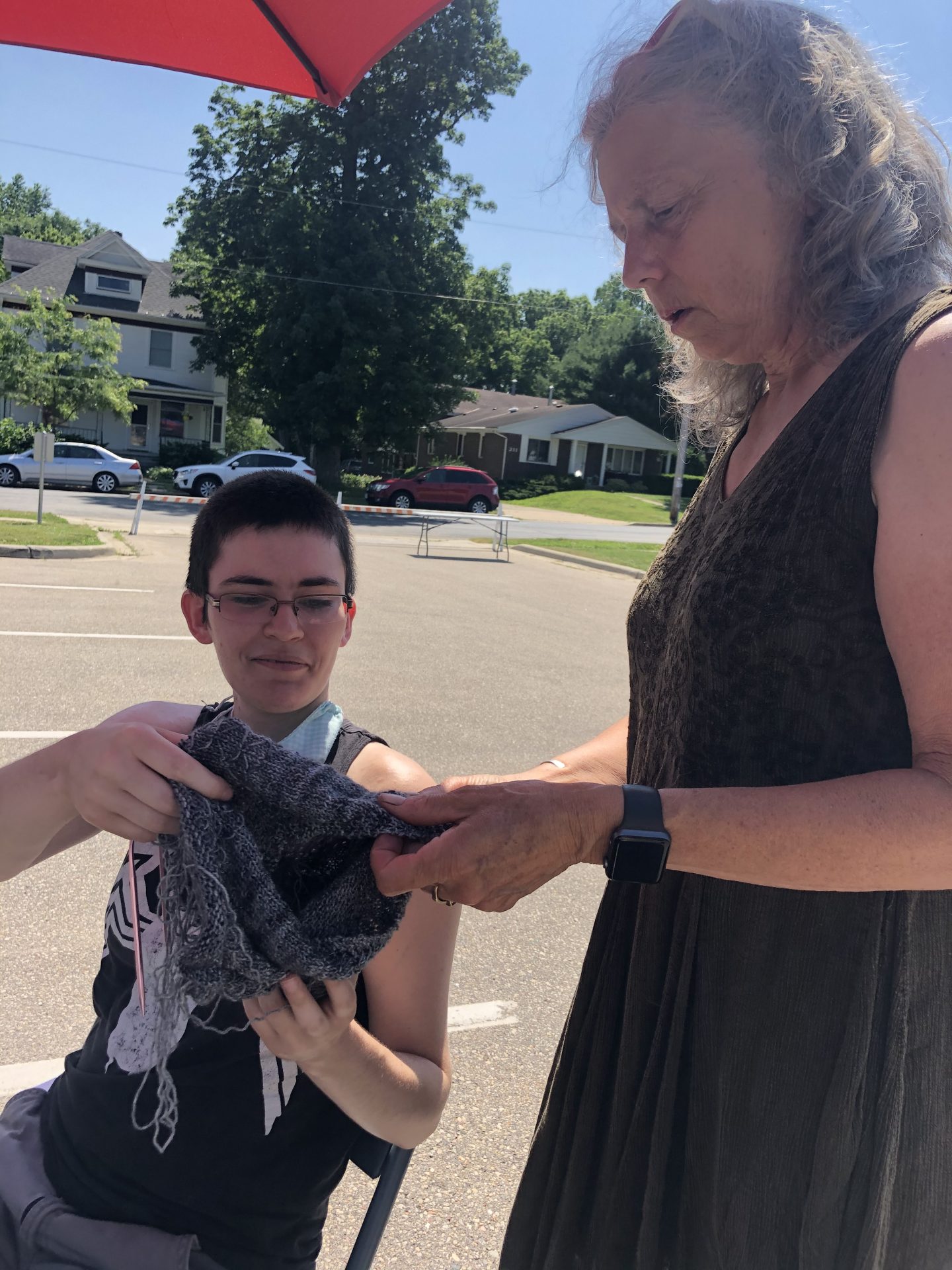 This was a special KIP day moment – Robin showing her in-progress Paris In Berlin cowl to Melissa Brown, who dyed the yarn she's using. Robin has since finished the cowl, how gorgeous is this FO??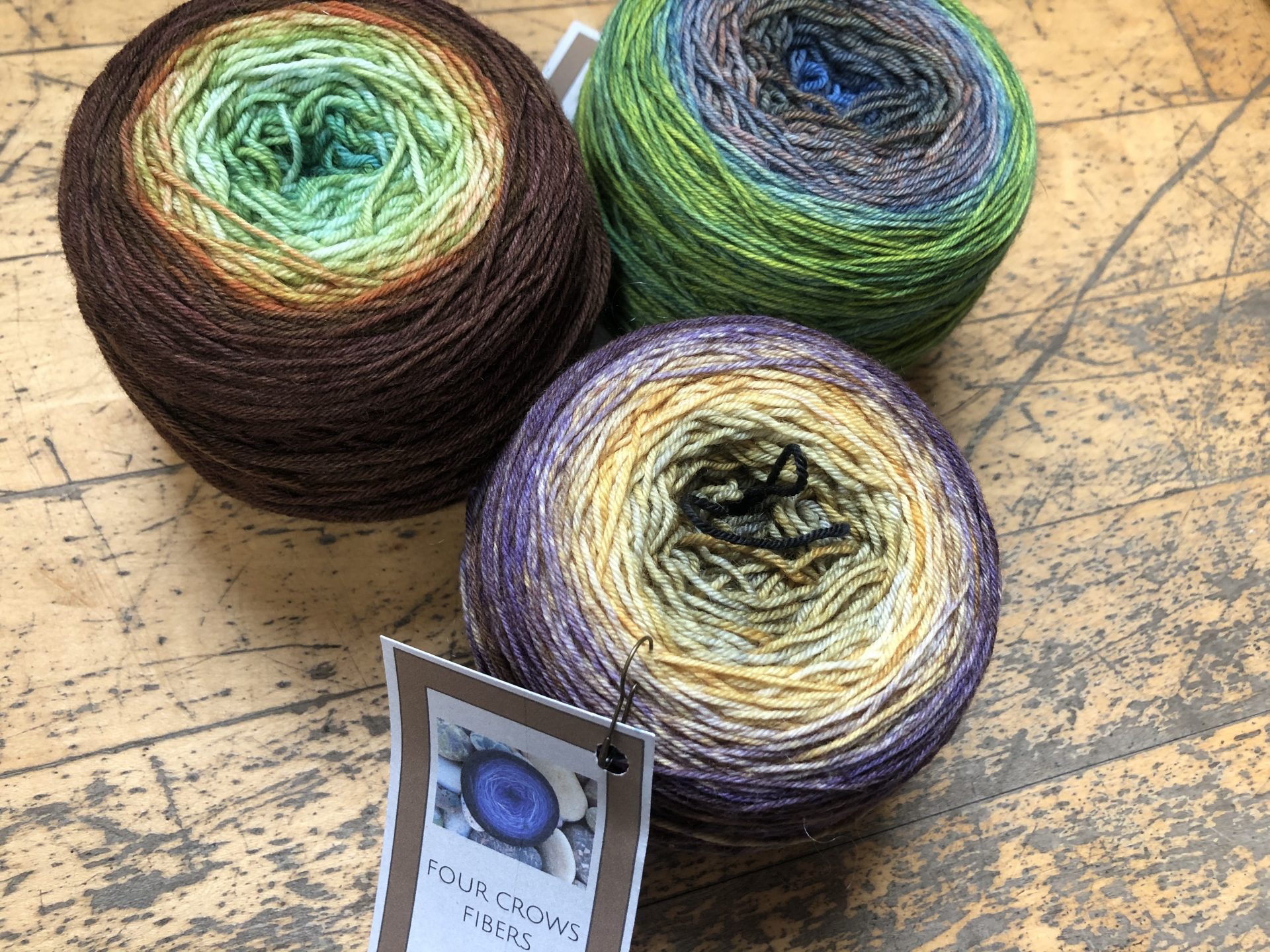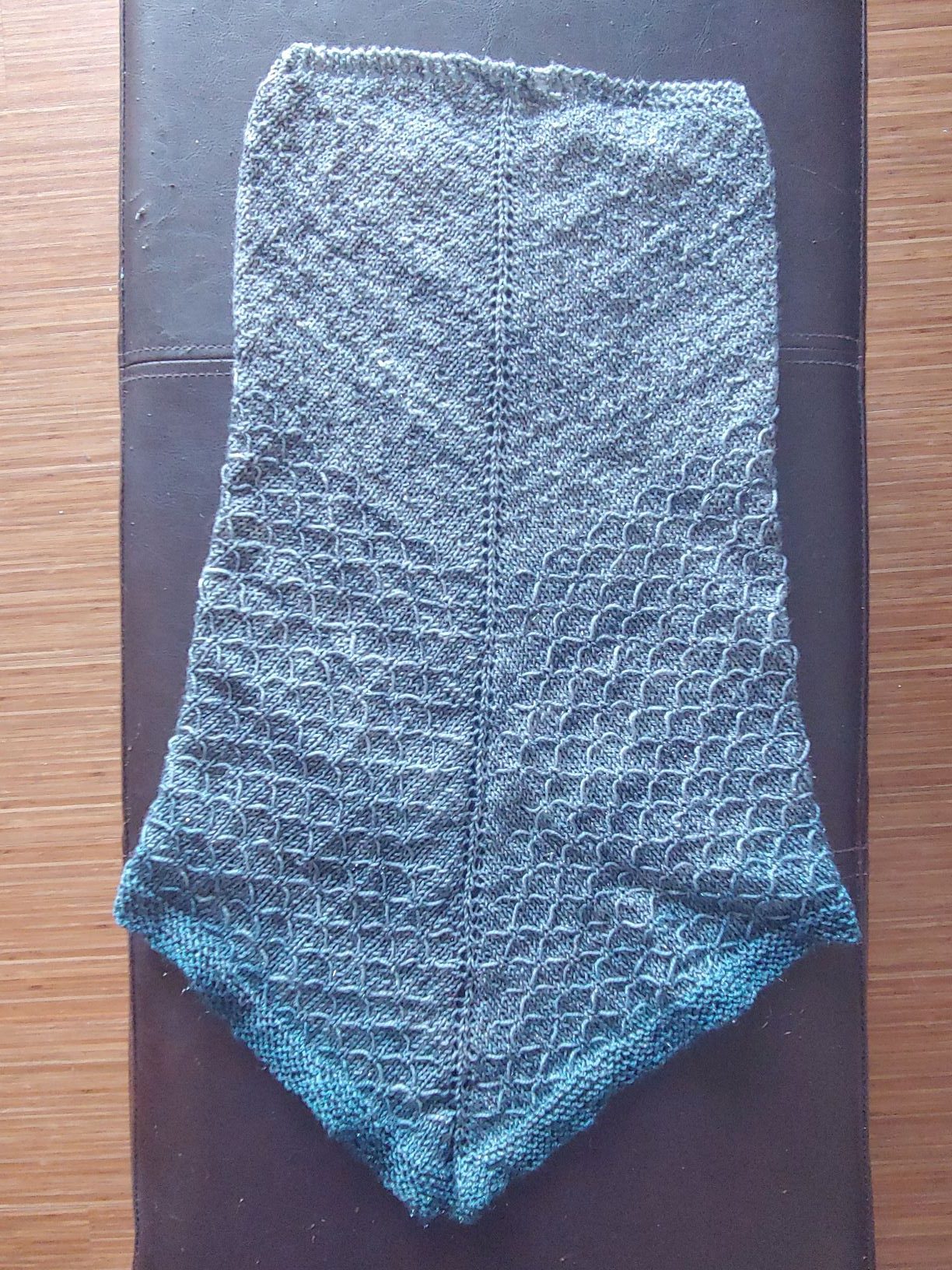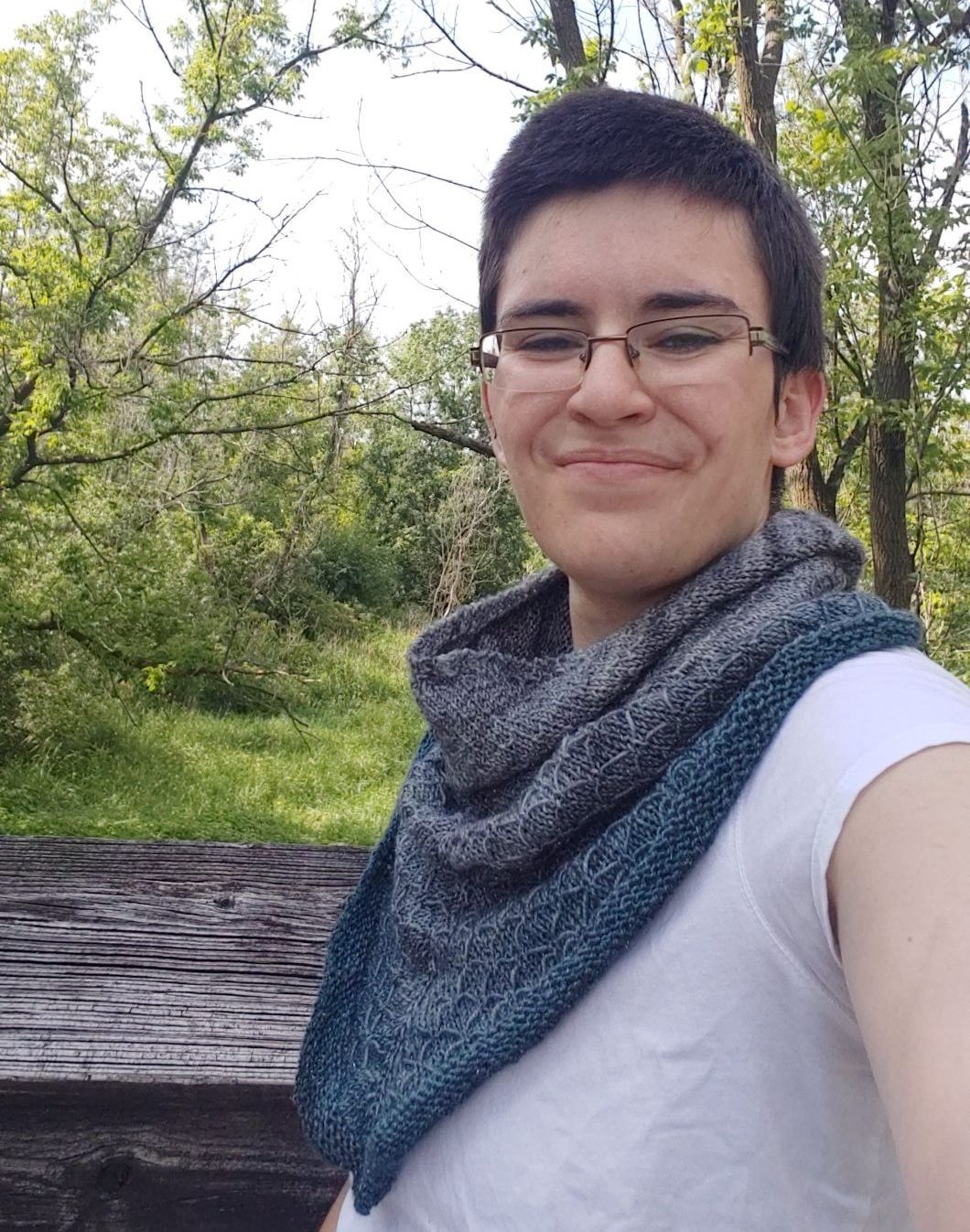 ---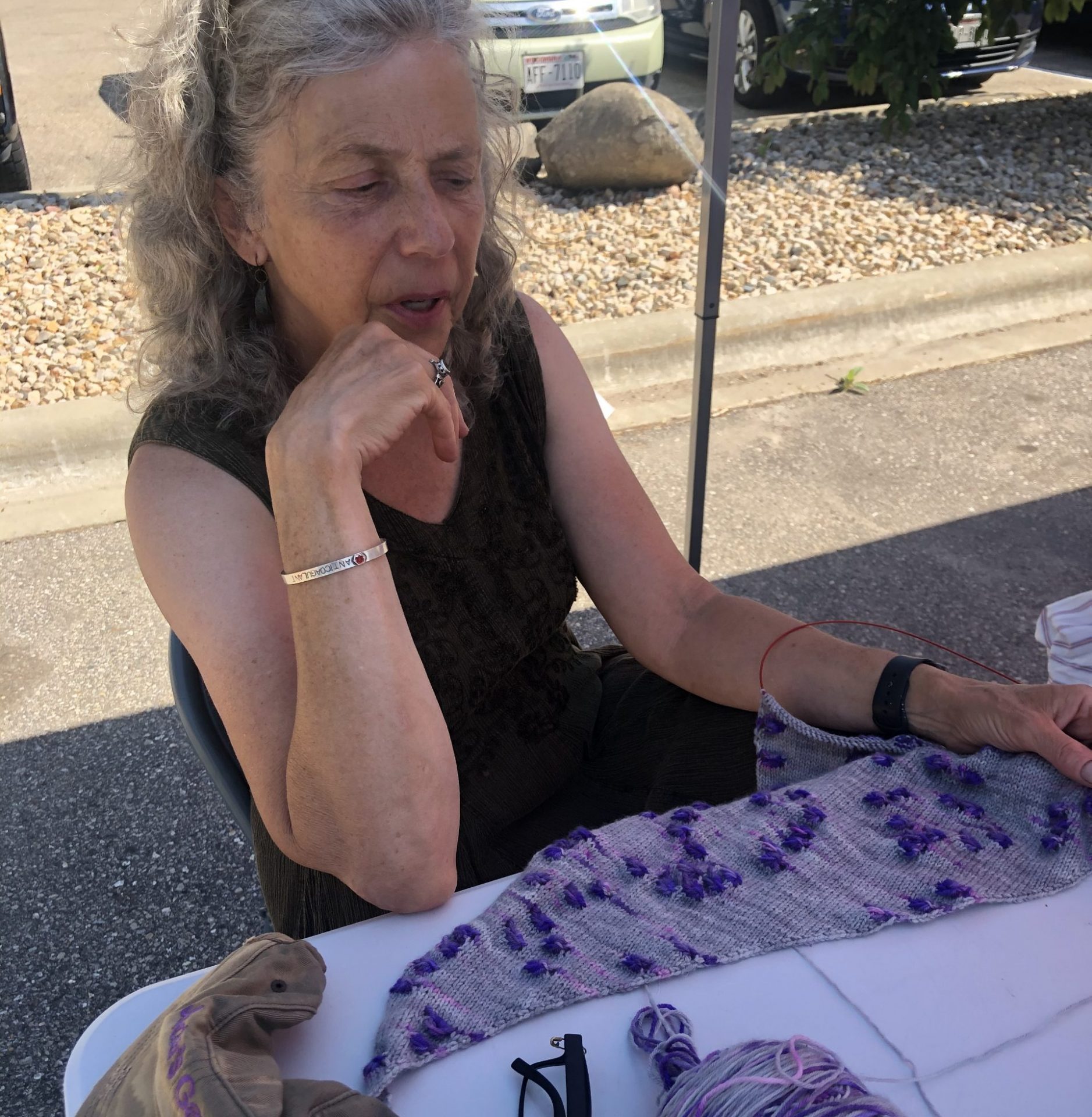 Speaking of Melissa, did you catch a look at what she was working on? This is the Float shawl by Dawn Barker, and keep your ears open for an exciting upcoming announcement…
(pssst it has to do with custom-dyed yarn for this pattern shhhh)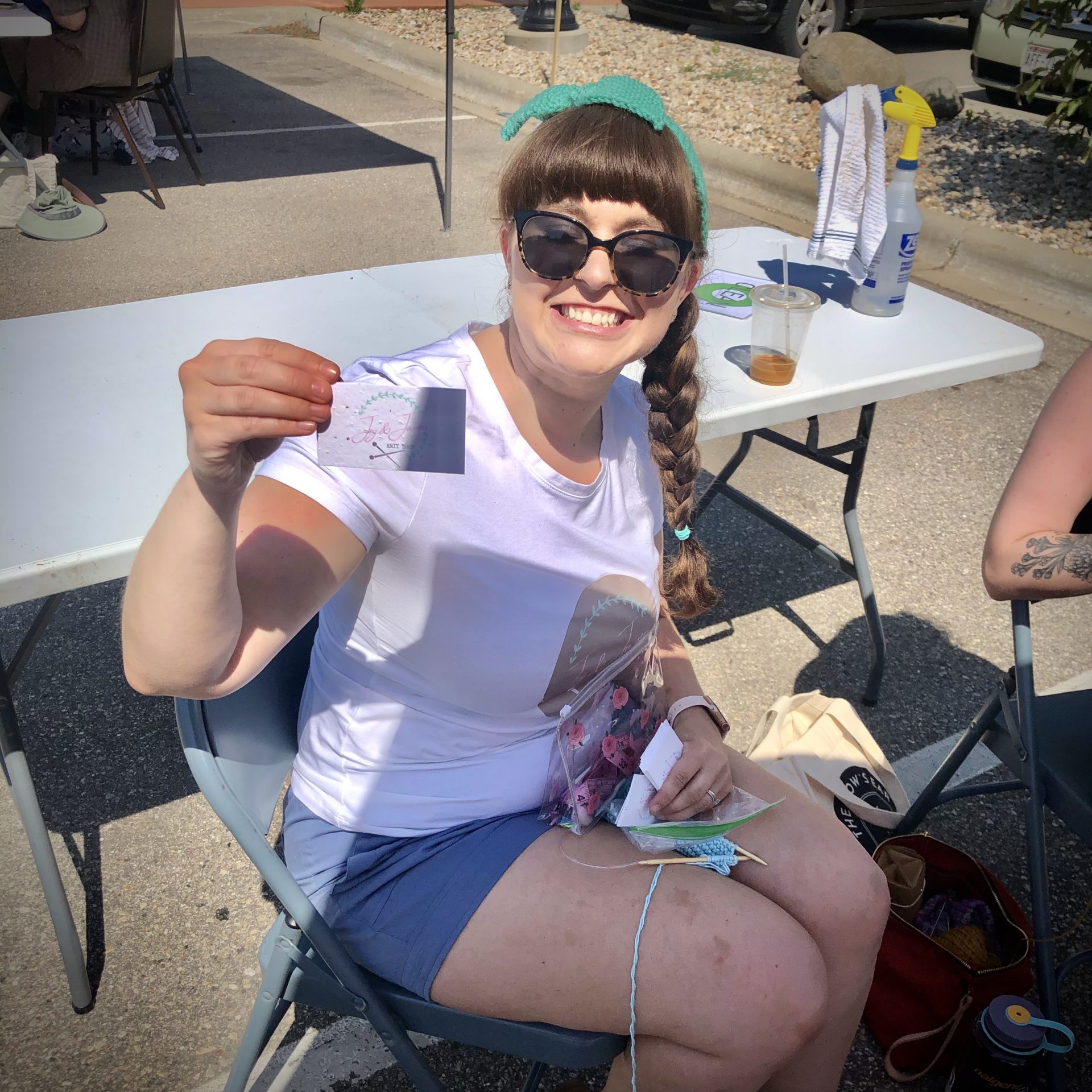 And speaking of local craftspeople-turned-entrepreneurs, this is Jennee, showing off her business card for her etsy shop Joy & James which 'captures the comfy nostalgic spirit of traditional knit pieces … as "green" as we possibly can by using all natural fibers & eco friendly shipping and packaging practices.'
Hurrah for supporting local artisans!
---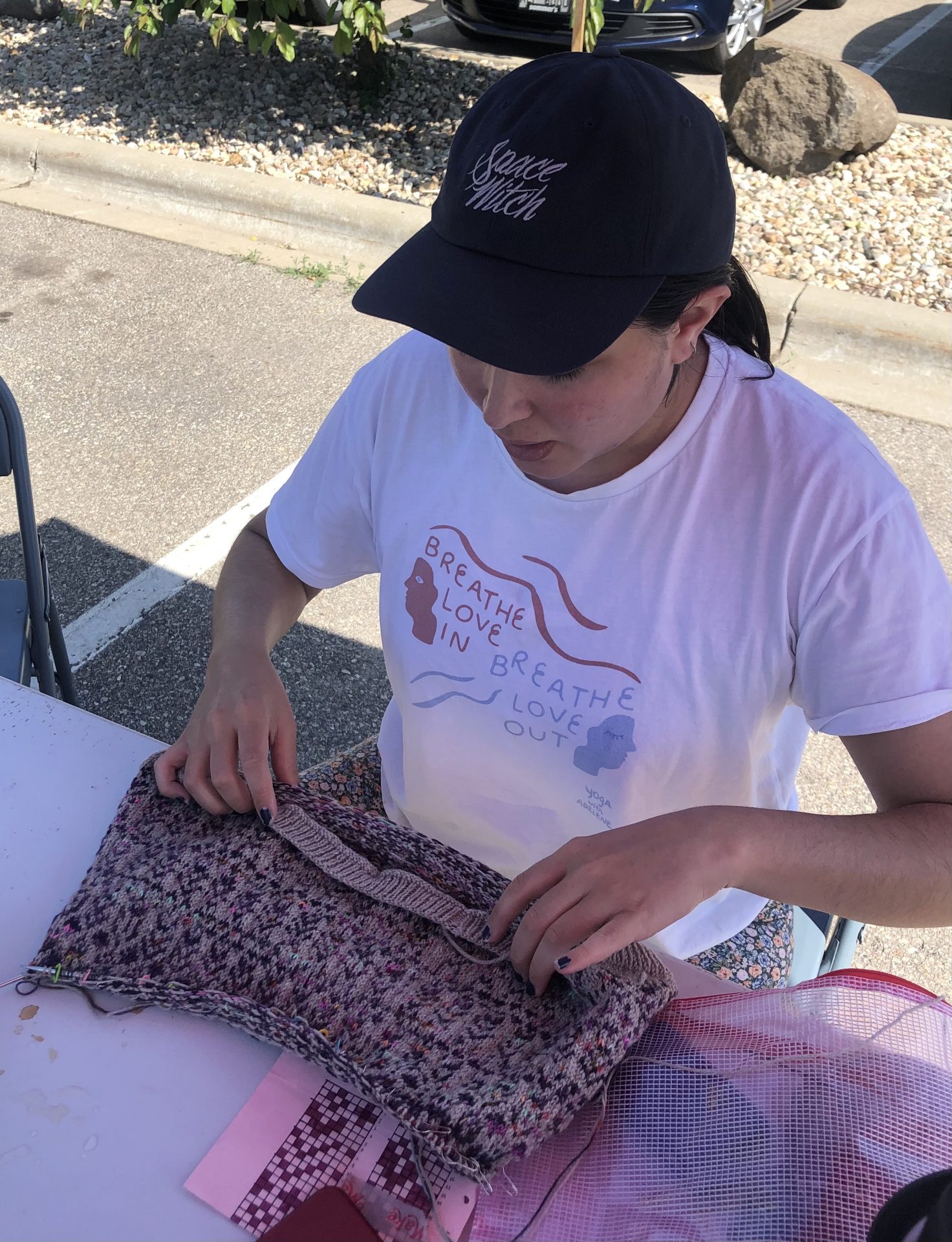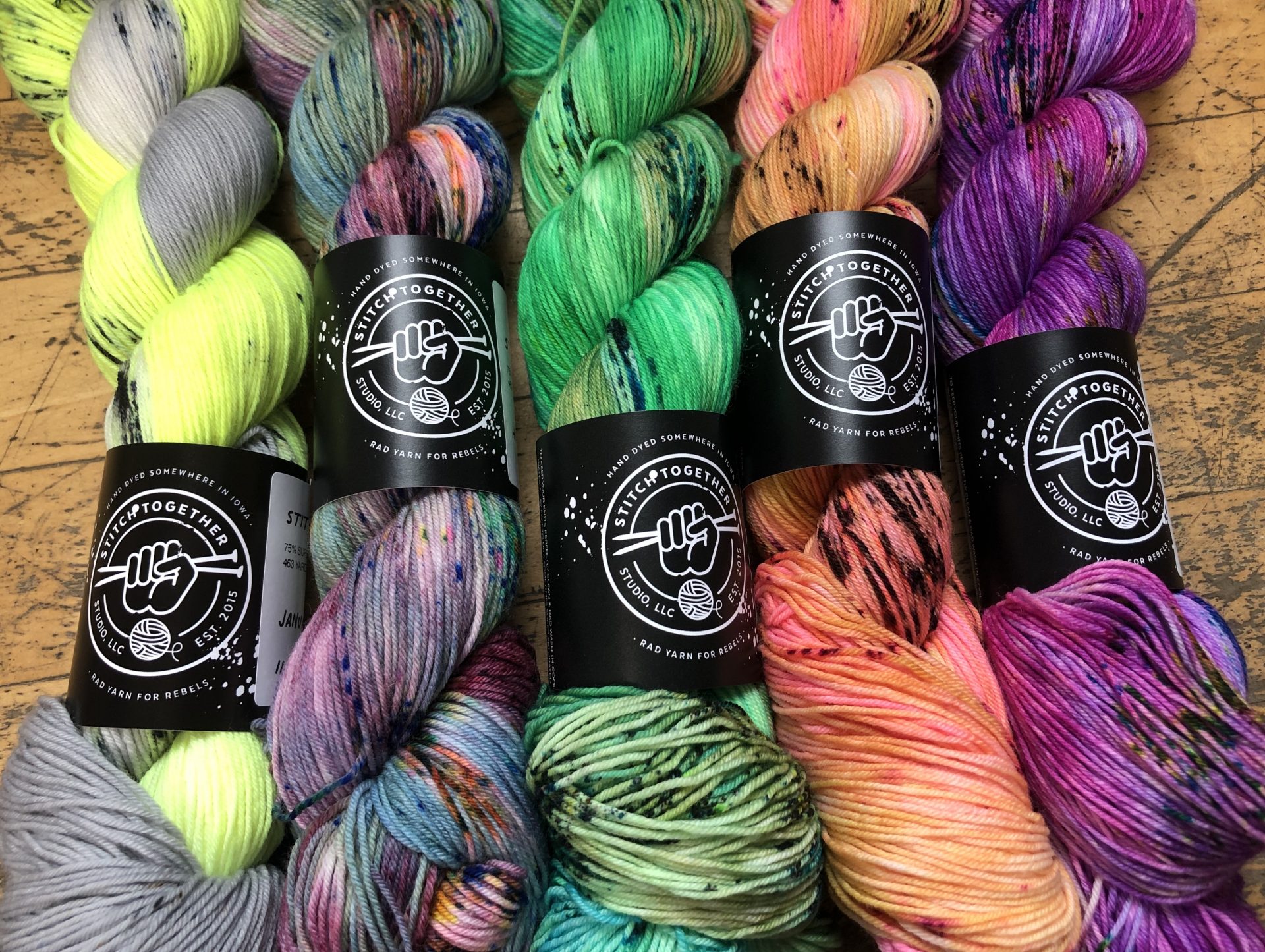 This amazing and talented stitch witch is our good friend Sam, who is working on the absurdly awesome Jack Pine Jumper by Brienne Moody. She's using Babyull for the body and two variegated yarns for the contrast colors – one by Mad Tosh and the other by Stitch Together.
Check out the progress she's made since June! We cannot wait to see this beauty worn out and about on the town: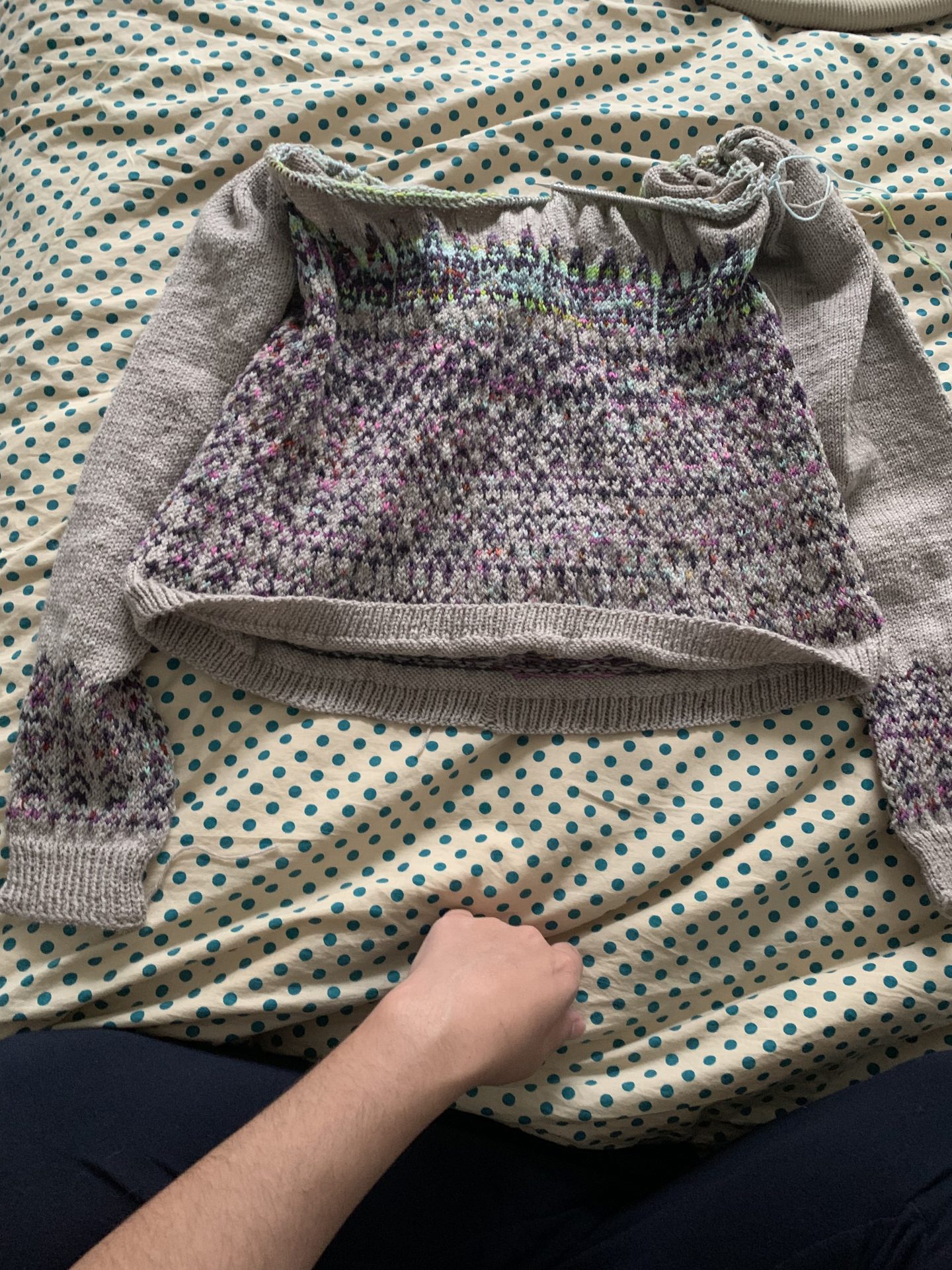 ---
Rose has a lot of obsessions and enjoys it when they overlap: dogs, yarn, and Star Trek…check check and check.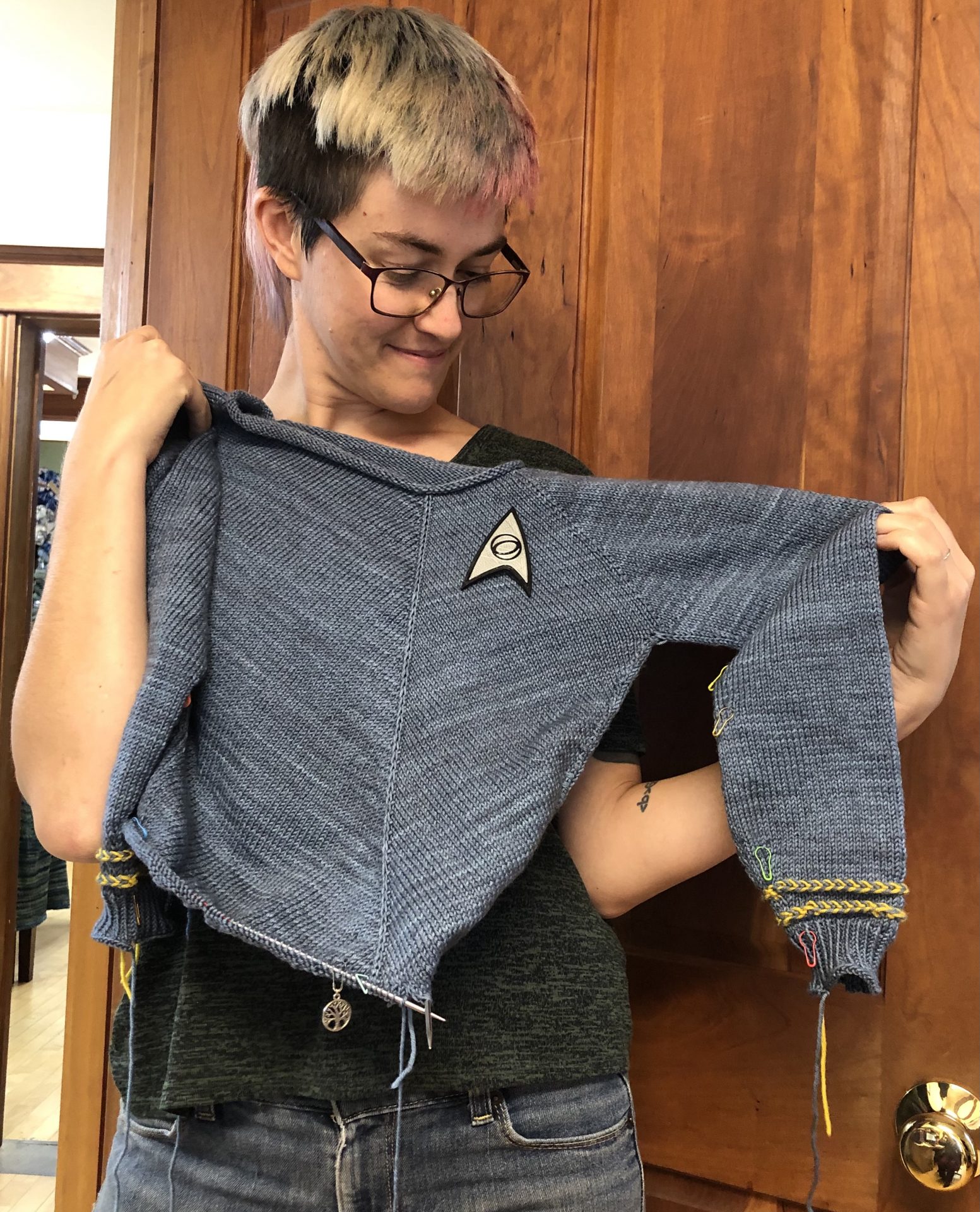 This is a hack of the Sugar Maple pattern by Carina Spencer, made to look as much as possible like a science officer's uniform from the original series. And if you know what that means, you know it's going to be pretty, well, form-fitting, so she definitely indulged in one of her all-time favorite yarns (Mad Hatter, so smooth, so bouncy, so soft!) to make sure it would be both comfortable and beautiful.
---
What an amazing day! And it was made possible by the incredible work and dedication of so many amazing people:
AJ shepherded this event from spark to firework, managed the details from getting us use of the parking lot to rustling up tables and chairs. Without her this event wouldn't have got off the ground, so thank you, AJ! (And thanks Sarah R for the pic!)
Once off the ground, the party wouldn't have been a party without the incredible efforts of the entire staff. Mya made sure everyone got fed, Kaylin got the sign-ups and menu online, while Jen and her big heart took care of everyone's sanity…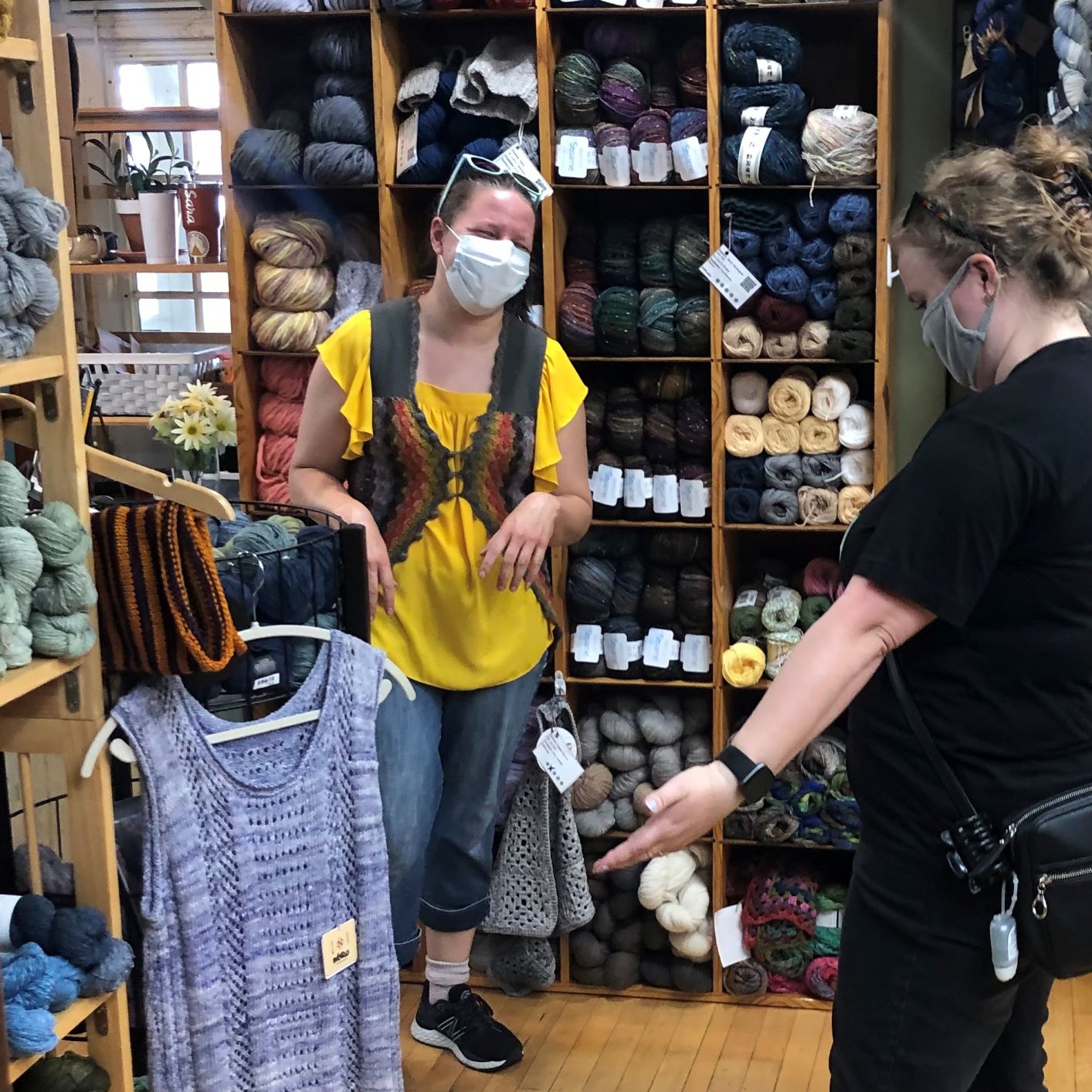 And of course the most heartfelt thanks and appreciation goes out to ABSOLUTELY EVERYONE with their boots on the ground day-of!
And last but certainly not least, we're sending out so much gratitude to the Verona chamber and St. James Lutheran church for generously lending us the chairs and tables for the event, and to the Purple Goose and J&J craft works for contributing to our raffle prize — Congrats to our grand prize winner, we're tickled that it went to a Verona local! — and to people who just stepped up to lend a hand for no other reason than their generous nature — Like Taine for spontaneously bringing over her own big lawn umbrella even though she couldn't stay for the event — we're proud of how the Sow just seems to attract good people (and good dogs)!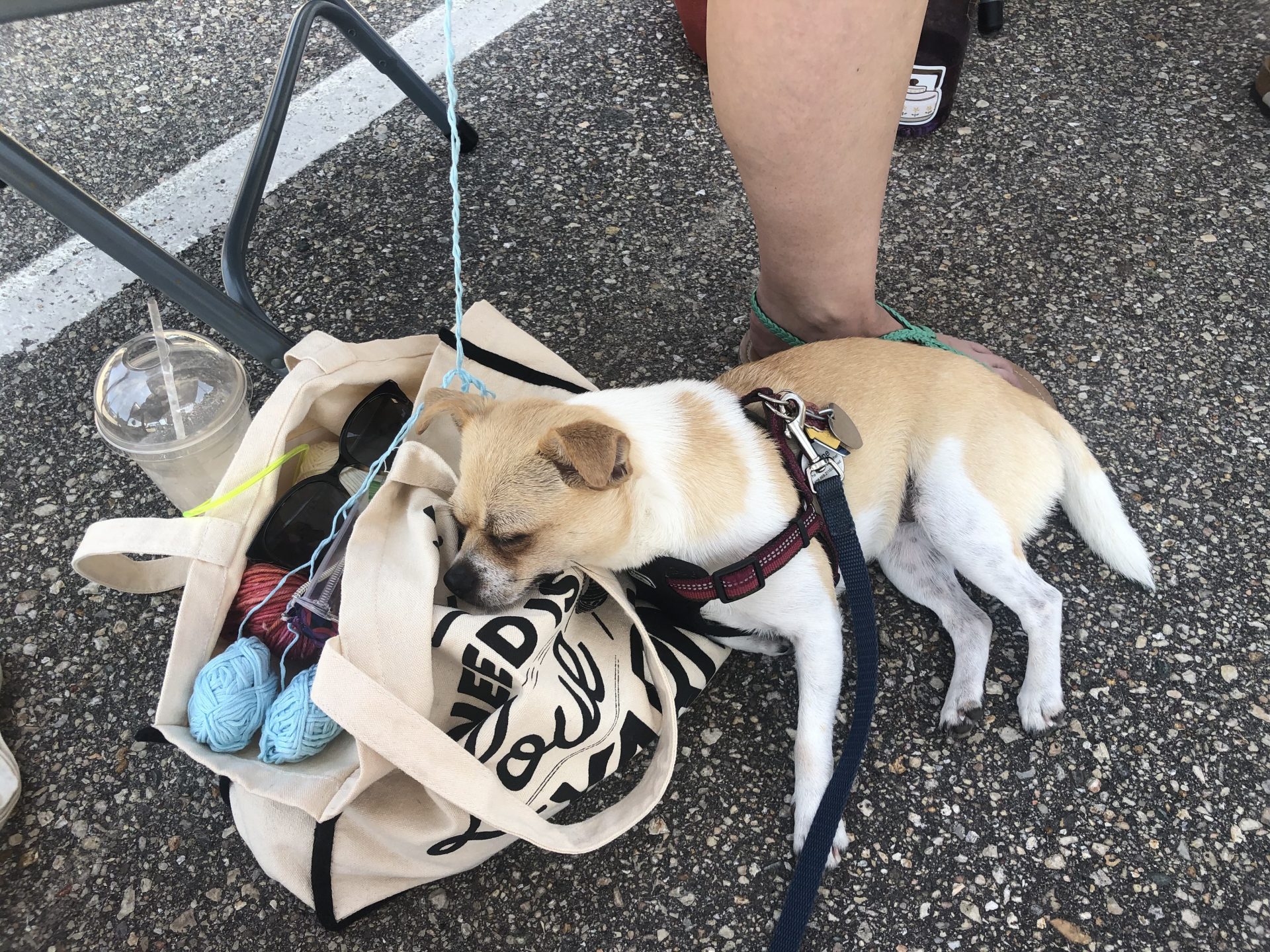 Stay Tuned for an announcement about our next big event…the Sow's Ear is turning 21 this October & we are ready to party!